FDNY EMS Members Help Woman Giving Birth to Twins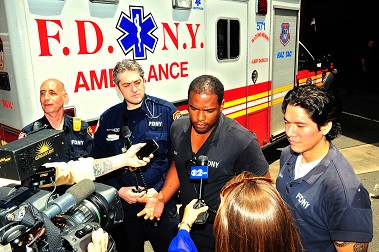 (L to R) Paramedic Frank Kupferberg, Paramedic Alexander Khalef, EMT Tiege Dolly and EMT Jonathan Nagaki.
FDNY EMS members were called to an unusual job on June 7, a woman giving birth to twins in the back of a taxi.

Just after 9 a.m., EMTs Jonathan Nagaki and Tiege Dolly from Station 4 were called to the intersection of Clinton and Delancey Streets. Within a minute, they were on the scene.

They found one baby had been delivered and the second was on the way. They cut the cord, suctioned the baby's mouth and wrapped her in a foil blanket.
There was a language barrier, so EMT Nagaki, who speaks Spanish, was translating.

"The baby was calm, everyone on the scene was calm," EMT Dolly said.

Paramedics Alexander Khalef and Frank Kupferberg, also from Station 4, soon arrived and helped the EMTs move the mom and baby.

"This was a serious call and we wanted to get to the hospital quickly, because it would be better for the baby," EMT Dolly said.

They transported them to Bellevue Hospital, where they were rushed to the maternity ward. On the way, the second baby girl was delivered. She was the couple's fourth child.

The EMS members said they saw the family later and, Paramedic Khalef said, "everyone was all smiles. The dad was happy because now he has four girls."