FDNY 2012 EMS Week Poster Unveiled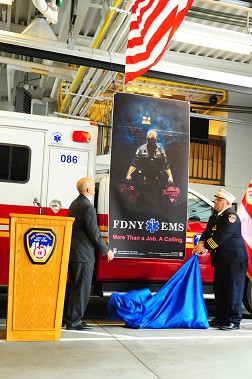 Fire Commissioner Salvatore Cassano and Chief of EMS Abdo Nahmod unveil the 2012 FDNY EMS Week poster.
FDNY EMS members always say their career is not a choice, it is a calling. And the 2012 EMS Week poster, unveiled at EMS Station 32 on May 16, demonstrates their passion for the job.

"This pays tribute to the 3,000 everyday heroes of the FDNY's Bureau of EMS," Fire Commissioner Salvatore Cassano said. "They do tremendous, inspirational work every day, improving the lives of those who need it most."

The FDNY-developed poster, which features Rescue Paramedic Don Faeth (a 25-year veteran of EMS), is in the style of a blockbuster film advertisement and carries the slogan: "More than a job. A calling."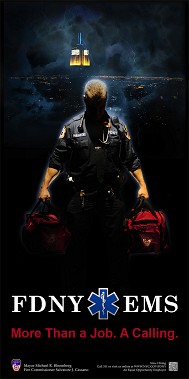 The FDNY's 2012 EMS Week poster
The poster will be displayed in approximately 350 phone kiosks donated by Van Wagner.

It also carries a QR Code, which encourages viewers to join the FDNY's Bureau of EMS.

"It perfectly represents the men and women of FDNY EMS," Chief of Department Edward Kilduff said. "When I call 9-1-1, I hope someone like this comes to the door."

National EMS Week kicks off on Sun., May 20, with events scheduled throughout the city.

"Paramedics and EMTs are on the streets of New York saving lives every day, answering 1.2 million calls," Chief of EMS Abdo Nahmod said. "All of them have a passion for what they do, and this poster demonstrates it."

EMS Week 2012 events include:
EMS Regional Conference, FDNY Academy on Randall's Island, May 20
EMS Remembrance Mass, St. Boniface in Brooklyn, May 21 at 12 p.m.
Second Chance Brunch for Cardiac Arrest Survivors, May 22
New York State EMS Memorial Ceremony, Empire Plaza in Albany, May 23 at 11 a.m.
FDNY EMS Health Fair, Metrotech Commons in Brooklyn, May 24 from 9 a.m. - 2 p.m.
EMS Appreciation Night with the Mets, Citi Field in Queens, May 24, 5 p.m.