FDNY and DCAS Announce Record-Breaking Number of Minorities Took Firefighter Exam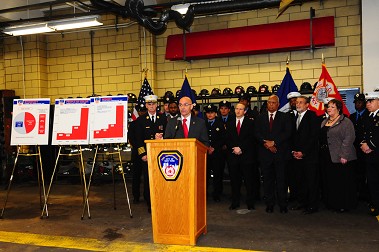 Fire Commissioner Salvatore Cassano announces the Firefighter Exam statistics.
Fire Commissioner Salvatore J. Cassano and Department of Citywide Administrative Services (DCAS) Commissioner Edna Wells Handy announced on May 8, that 42,161 people took the 2012 firefighter exam - including a record-breaking 19,260 minorities, a 130 percent increase over the previous exam administered in 2007.
In addition, more women took this year's test, 1,952, than the total combined number of women (1,788) who took the three previous firefighter tests (1999, 2002 and 2007).
"Firefighting is a team effort - and this was definitely a team effort," Commissioner Cassano said during a press conference at Engine 37/Ladder 40 in Manhattan.
Commissioner Handy added, "I'm proud of the role DCAS played in this recruitment effort. We are proud to support your organization."
Improving diversity in the FDNY - specifically in the firefighter ranks - has been a top priority for the last decade, and has been a key initiative in all four of the Department's Strategic Plans (2004, 2007, 2009 and 2011). The effort has led to the significant and unprecedented interest from women and people of color in the two recent exams.
Minorities comprised 46 percent of all test-takers on the computer-based exam, making it the FDNY's most successful recruitment campaign ever. The test, which was developed and administered by PSI, was provided every day from March 15 to April 20 at 15 locations in the tri-state area. A make-up exam for those who missed their scheduled exam was administered on April 26.
The record-breaking 19,260 minorities who took the exam included:
8,186 Blacks, including 843 women, compared to 3,855 in 2007.
9,582 Hispanics, compared to 4,062 in 2007
1,314 Asians, compared to 464 in 2007
1,365 Women are people of color
FDNY Recruitment Highlights:
$1 million spent on advertising in more than 60 community and ethnic newspapers, as well as radio ads on urban and Hispanic stations.
6,000 recruitment events conducted by FDNY members
384,000 email alerts sent
146,000 phone calls to interested applicants
8,600 applicants attended FDNY tutorial sessions
20,000 views of the FDNY online tutorial session
10,000 followers on social media
14,000 applicant questions answered on social media
50,000 views of FDNY Recruitment videos on Youtube
For more information on FDNY Recruitment efforts and job opportunities, visit:
www.nyc.gov/dcas
www.nyc.gov/fdny
www.facebook.com/joinFDNY
www.twitter.com/joinFDNY