FDNY Celebrates Hockey Win Versus Russian EMERCOM Team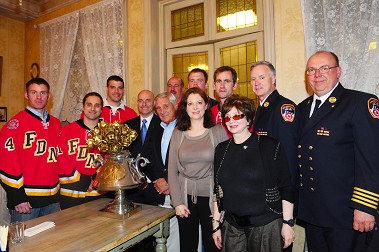 FDNY senior staff and members of the FDNY Hockey Team with representatives from RAF in front of the trophy awarded to the FDNY team for their win over the EMERCOM Russian firefighters.
Members of the FDNY Hockey Team joined representatives from the Russian American Foundation (RAF) on May 4, to celebrate the FDNY's win against the EMERCOM Russian firefighters in Moscow on Apr. 27.
"Our teamwas able to bring home the victory, but more importantly, they were able to continue the strong relationship we have with our fellow firefighters in Russia," Fire Commissioner Salvatore Cassano said at the event at Mari Vanna restaurant in Manhattan.
This is the second annual game organized by the RAF. The first, played in New York last summer, was won by the Russian firefighters.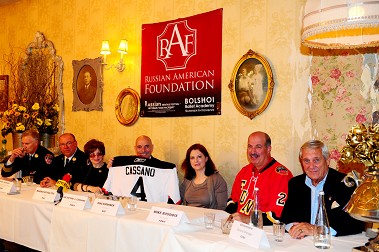 Fire Commissioner Salvatore Cassano holds up his Russian hockey jersey presented to him by RAF. (L to R) Chief of Operations Robert Sweeney, Chief of Fire Prevention Thomas Jensen, President of RAF Marina Kovalyov, Commissioner Cassano, Vice President of RAF Rina Kirshner, FDNY Hockey Team Manager Mike Rossidis and FDNY Hockey Team General Manager Bill Kammerer.
"Our friendship has no borders and we look forward to continuing this relationship," said Marina Kovalyov, President of RAF.
Mike Rossidis, the FDNY Hockey Team Manager, echoed her sentiments, "This has been a great blessing for us. We have made many friends [in Russia] and we hope this partnership will continue for years to come."