The FDNY Regretfully Announces the Death of Lt. Richard A. Nappi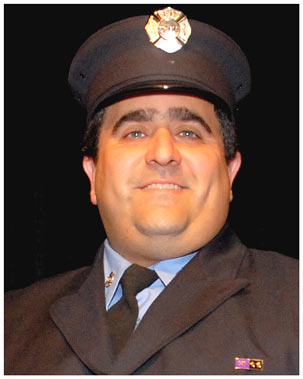 Lt. Richard A. Nappi
Mayor Michael R. Bloomberg and Fire Commissioner Salvatore Cassano regretfully announced on Apr. 16 the death of Lt. Richard A. Nappi, Engine 237, a 17-year veteran of the FDNY who suffered an apparent heart attack while battling a three-alarm fire the same day in Bushwick, Brooklyn. Lt. Nappi, who lived in Suffolk County and leaves behind a wife and two children, was 47 years old.
At 1 p.m., the members of Engine 237 responded to a fire in a two-story commercial building at 930 Flushing Ave.
Arriving with several additional companies within three minutes, Lt. Nappi led a team of firefighters who stretched and operated a hoseline in a mezzanine area of the first floor. While battling the fire, Lt. Nappi became overheated and collapsed. Firefighters from Ladder 112 removed him on a stretcher to the street where he initially was conscious and alert. He was placed in an ambulance and EMS personnel began to treat him when he suddenly became unconscious and suffered cardiac arrest. While paramedics and EMTs continued to work on him, he was rushed by ambulance to Woodhull Hospital where he later died.
After his appointment to the FDNY on Oct. 23, 1994, then-Firefighter Nappi worked in Engine 7 on Duane Street in lower Manhattan. Although he was off-duty on Sept. 11, 2001, he responded from home that morning to the World Trade Center - which was several blocks from his firehouse. In 2003, he transferred to Engine 302 in Queens, and - after his promotion to lieutenant on Nov. 10, 2007, he was assigned to Engine 237.
"Outside his family, his life's work was keeping New Yorkers safe from fires," said Mayor Bloomberg. "And by any measure, he succeeded magnificently."
Commissioner Cassano added: "He was dedicated, he was brave, he was committed to the fire service. He will be sorely missed by all of us that knew him."
Prior to joining the FDNY, Lt. Nappi was a parole officer for the New York State Division of Parole, and also worked for several years as a case worker for Suffolk's Department of Social Services.
In addition to his work as a member of FDNY, Lt. Nappi also served as a volunteer firefighter and deputy chief instructor with the Suffolk County Fire Academy in Yaphank.
Prior to joining the FDNY, he was a parole officer (1992-1994) for the NYS Division of Parole, and a case worker for the Suffolk County Department of Social Services (1987-1992).
Lt. Nappi is the 1,142nd firefighter to die in the line of duty since the FDNY's founding in 1865. The last member of the Department to die on the job was Firefighter Paul Warhola of Engine 221, on August 14, 2009.
Lt. Nappi is survived by his wife, Mary Anne, and their children Catherine, 12, and Nicholas, 11.
At the request of the officers and members of Engine 237, a scholarship fund has been established by the FDNY Foundation for Lt. Nappi's children.
Please send donations to:
FDNY Foundation
Lieutenant Richard A. Nappi Children's Education Fund
9 Metrotech Center
Brooklyn, NY 11201

Or https://www.fdnyfoundation.org/donate/
All Donations are tax-deductible. 100% of the donation will be given to the Lieutenant Richard A. Nappi Children's Education Fund.

Funeral information
Viewing
Maloney's Funeral Home
132 Ronkonkoma Avenue
Lake Ronkonkoma, NY 11779

Thurs., Apr. 19 from 2 to 4 p.m. and 7 to 9 p.m.
Fri., Apr. 20 from 2 to 4 p.m. and 7 to 9 p.m.
Funeral and Procession
The Church of St. Elizabeth Ann Seton
800 Portion Road
Lake Ronkonkoma, NY 11779

Sat., Apr. 21
10:30 a.m.