Family, Doctors Update Condition of Injured Firefighters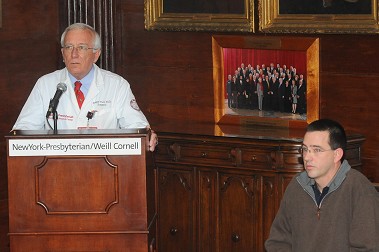 Dr. Roger Yurt (standing), Director of the Burn Center, and Douglas Wiedmann, Firefighter Robert Wiedmann's brother.
Family members and doctors at William Randolph Hearst Burn Center at NewYork-Presbyterian Hospital/Weill Cornell Medical Center paused on Dec. 22 to update the public on the condition of two firefighters severely injured while fighting a fire in Crown Heights, Brooklyn, on Dec. 19.
Firefighter Robert Wiedmann, 38, from Rescue 2 received second- and third- degree burns on more than 50 percent of his body - including his face, hands and head - while fighting a two-alarm fire on Prospect Place. Firefighter James Gersbeck, 52, from Rescue 2 also was seriously injured in the fire.
"Everyone's working to get [Firefighter Wiedmann] back to his regular self," said his brother, Douglas Wiedmann. "He's an excellent firefighter and certainly is our hero."
Dr. Roger Yurt, Director of the Burn Center, said he expects Firefighter Wiedmann to be in the hospital for about six to eight weeks, having approximately one surgery a week.
"He's very strong," he said of the 14-year veteran of the FDNY. "We've seen his psychological strength and his ability to deal with this."
He said the firefighter is alert and communicative. His brother said he mouths words or spells out words using a board.
"He's always asking how we are; he's more worried about us than himself," he said.
Dr. Yurt said he does not expect Firefighter Gersbeck, a 25-year veteran of the FDNY, to have a long hospital stay, noting that he has second and third degree burns that will probably heal on their own with the proper care.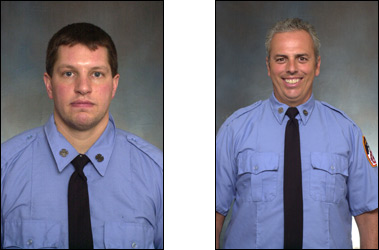 Firefighter Robert Wiedmann (left) and Firefighter James Gersbeck, both from Rescue 2.
Speaking of Firefighters Wiedmann and Gersbeck, he said, "They are truly the bravest and two of the best firefighters I know."
Both men also acknowledged the generosity and kindness of the members of Rescue 2, who have visited the hospital and supported the family since the fire.
"We can't express what your support means to us," Mr. Wiedmann said.
The members of Rescue 2 are hosting several blood drives throughout the five boroughs over the coming weeks. More information will be posted when available.