Firefighters from Ladder 86 Presented
with Liberty Mutual Firemark Award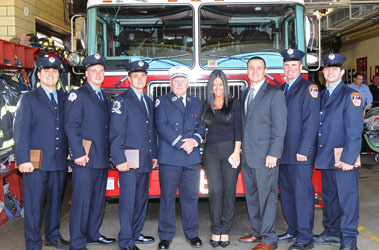 Firefighters from Ladder 86 with Damion Del Corsano and Erica Lack from Liberty Mutual.
Firefighters from Ladder 86 were presented with the Liberty Mutual Firemark Award on Oct. 20.
"We want to recognize you for going above and beyond the call of duty," said Damion Del Corsano, Senior Branch Manager for Liberty Mutual.
Capt. James Melvin and Firefighters Bobby Shannon, Dan Mackey, Scott Owen, Brian Quinn and John Trentacosti, were awarded a plaque for their rescue of two construction workers from a stuck elevator that was filling with water on Aug. 14.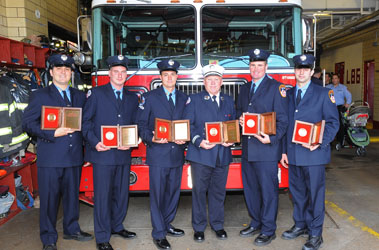 The members with their awards
The water was up to the men's necks when firefighters arrived, and they used a small ladder through the emergency hatch to help them exit.
"We appreciate the recognition and thank you for your continued support," Staten Island Borough Commander Michael Marrone said.