FDNY Celebrates Fire Prevention Week 2011 with Numerous Events Throughout NYC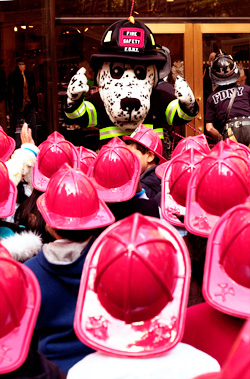 The FDNY will kick off Fire Prevention Week 2011 on Sun., Oct. 9, with public events throughout the five boroughs.
At each event, New Yorkers will be able to interact with members of the FDNY Fire Safety Education Unit and learn valuable, life-saving lessons in fire safety.
National Fire Prevention Week was established in 1922 to commemorate the Great Chicago Fire on Oct. 8, 1871, which killed more than 250 people, left 100,000 homeless and destroyed more than 17,400 structures. Fire departments throughout the country have since commemorated the anniversary every year, in the second week of October, by informing the public about the importance of fire safety and fire prevention.
The FDNY's Fire Prevention Week events include:
Sun., Oct. 9, 2011
Sears
404 East Fordham Road, Bronx
11 a.m. - 3 p.m.
Queens Center Mall
90-15 Queens Boulevard, Queens
12 p.m. - 4 p.m.
Mon., Oct. 10, 2011
Lowe's
2171 Forest Avenue, Staten Island
12 p.m. - 5 p.m.
Tues., Oct. 11, 2011
FDNY Fire Prevention Week at Rockefeller Center hosted by Tishman Speyer
Rockefeller Center - 50th Street between 5th and 6th Avenues, Manhattan
10 a.m. - 2 p.m.
Lincoln Hospital Fire Safety Day
234 East 149th Street, Bronx
11 a.m. - 4 p.m.
Thurs., Oct. 13, 2011
Jacobi Hospital
1400 Pelham Parkway South, Bronx
10 a.m. - 4 p.m.
Fire Safety Day at Metrotech Commons
Jay Street and Myrtle Avenue, Brooklyn
11 a.m. - 2 p.m.
P.S. 173 After School Program
306 Fort Washington Avenue, Manhattan
2:30 p.m. - 6 p.m.
(This event features singing firefighter El Bombero Rapero)
Fri., Oct. 14, 2011
Mount Loretto/CYO Senior Information Day - Hosted by Senator Andrew Lanza
6581 Hylan Boulevard, Staten Island
9 a.m. - 12 p.m.
YAI/National Institute for People with Disabilities
82-24 209th Street, Queens
12:30 p.m.
J.H.S. 143 Alianza Dominicana After School Program
515 West 182nd Street, Manhattan
2:30 p.m. - 5:30 p.m.
(This event features singing firefighter El Bombero Rapero)
Sat., Oct. 15, 2011
Kings Plaza Shopping Center
5100 Kings Plaza, Brooklyn
12 p.m. - 4 p.m.