Firefighter Tom Adams Named New York Daily News Hero of the Month
Firefighter Tom Adams (center, holding the frame) and Chief John Sudnik (center, three stripes on sleeves) with firefighters from Ladder 163.
Saving a man on a very poignant day earned Firefighter Tom Adams from Ladder 163 the honor of being New York Daily News Hero of the Month on July 22.
"This is a very special honor of ours, recognizing the important role our firefighters play in New York," Bill Holiber, CEO of New York Daily News, said during the ceremony at the newspaper's offices in lower Manhattan. "The bravery Tom displayed was extraordinary."
Queens Borough Commander John Sudnik added: "It's not often I can go and spread good news - but someone is alive today because of him. And it happened on a pretty significant day."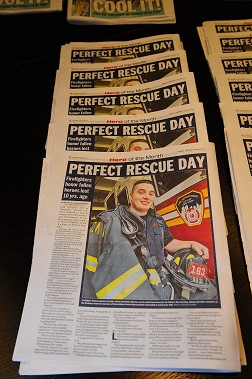 The New York Daily News Hero of the Month story.
Firefighter Adams was working at Ladder 163 on June 19 - Father's Day - when they were called to a fire on 44th Avenue in Woodside, Queens, at 4:50 a.m.
He had the can position, a water extinguisher to help them get past the flames and search for victims. He found an unconscious victim, a male in his 40s, about 15 feet inside.
As he was dragging the 200-lbs. man to the door, he said the fire was rolling across the ceiling. He and Firefighter James Pue carried him to the street, where EMS transported him to Elmhurst Hospital.
Yet, what makes the story more emotional is that the rescue occurred on a solemn day for the Department - especially Ladder 163.
On Father's Day 2001, three members of the FDNY were lost in a fire in Queens, including Firefighter John Downing from Ladder 163. And just the day before the fire, Firefighter Adams had taken part in the 10-year Father's Day fire memorial ceremony and met Firefighter Downing's family.
"I was just happy to help any way I could," said Firefighter Adams, a three-year veteran of the FDNY. He thanked his family and all the firefighters who attended the ceremony: "You've all molded me to be who I am today and I'm a firefighter because of all of you, so thank you."