New FDNY Fireboat, Bravest, Christened and Commissioned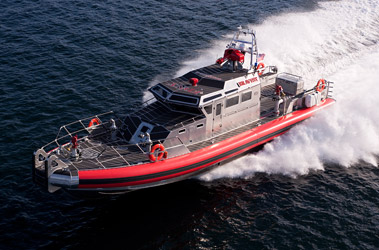 The FDNY's new fireboat, the Bravest.
The FDNY christened and commissioned the newest FDNY fireboat, Bravest, on May 26 during a ceremony at the North Cove Marina in Manhattan.

"The Marine Unit plays a critical part in the Department's overall strategy," said Fire Commissioner Salvatore Cassano. "These boats – and the crews that staff them – are the unsung heroes of the FDNY."

Chief of Department Edward Kilduff added: "Receiving this boat is like winning the trifecta. With these three boats – the Three Forty Three, Fire Fighter and Bravest – there's nothing we can't do in the Port of New York."

The Bravest is a $2.4 million, jet-powered fireboat, custom built for the FDNY by SAFE Boats International of Seattle, Washington.

The 65-foot, 80,000 pound vessel has a top speed of more than 50 miles per hour, making it one of the fastest in FDNY Marine Operations. The boat also can pump more than 7,000 gallons of water per minute, carries 200 gallons of firefighting foam, and is equipped with a Purple-K dry chemical fire suppression system, which is used for fuel-fed fires.

Like the other recent fireboat additions to the FDNY, the Three Forty Three and Fire Fighter II, the Bravest has a forward-looking infrared (FLIR) camera and the ability to protect firefighters from chemical, biological, radiological and nuclear agents. The Bravest alsois designed to operate safely in shallow waterways, such as the areas around New York City's airports.

The name Bravest adorns the sides of the boat's cabin using steel recovered from the World Trade Center. The name is in honor of all members of the FDNY.

Upon the completion of training for firefighters in Marine Operations, the Bravest will be assigned to Marine 6, located in the Brooklyn Navy Yard. The new boat will replace the fireboat Kevin C. Kane, which was placed into service in 1993.

FDNY Marine Operations is responsible for more than 560 miles of coastline and harbors, and has protected New York City residents for 135 years.

"This boat was a multi-year effort by many, many people," said Chief Executive Officer of SAFE Boats International Scott Peterson. "I want the FDNY and members of New York to know that we will always be here for you."