Firefighters Save Two From Brooklyn Fire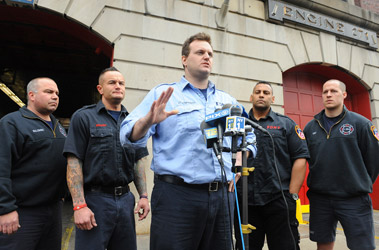 Lt. Mike Lampasso describes the rescue to the media.
Firefighters from Ladder 124 are being hailed as heroes for saving two victims from a Brooklyn fire on Feb. 28.
"These guys are unbelievable," said Lt. Mike Lampasso. "It's great to see a well oiled machine in operation like this."
Firefighters were called to the scene of a fire on Bleeker Street at around 3:15 a.m., with reports of children trapped on the floor above the fire.
The members of Ladder 124 said when they arrived, they saw the members of Ladder 112 pulling a child out the upstairs window of the two-story residence.
Lt. Lampasso and Firefighters William Monjardo and Richard Mercado began to move into the building. Thick, black smoke filled the building from floor to ceiling, as well as high heat.
The fire was located on the first floor, so firefighters climbed to the second floor to begin their search.
The team began their search and found an unconscious woman, who was in respiratory arrest. The firefighters carried her downstairs to safety, where Firefighter Paul Sulzinski began CPR. Lt. Lampasso then found a man, who was in cardiac arrest, in the doorway of the back bedroom. The group then carried him to safety and finished their search.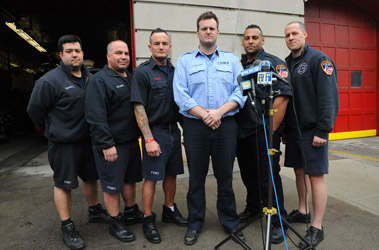 The members of Ladder 124. (L to R) FF Christopher Chiappetta, FF Paul Sulzinski, FF William Monjardo, Lt. Mike Lampasso, FF Richard Mercado and FF Michael Ober.
The victims were transported by EMS to Woodhull and Wyckoff Hospitals in serious condition.
The fire was brought under control at 3:57 a.m.
"It always feels good to do something like this," said Firefighter Mercado.
Firefighter Monjardo agreed, "It's great to be able to make a difference in someone's life."
Fire marshals determined the cause of the fire was accidental. Yet, they noted that, although there were smoke alarms in the apartment, they did not have batteries.
The Department urges everyone to ensure smoke alarms are present and working in your home. Learn more about how you can keep your home fire safe.