The New Fire Fighter II Fireboat is Commissioned
Get the Flash Player to see this video.
The FDNY's newest fireboat, the Fire Fighter II was commissioned on Dec. 7, at the Marine Company 9 Homeport on Staten Island. It is the second marine vessel to join the FDNY's Marine Division in 2010.

"The FDNY's fireboats are the unsung heroes that keep us safe," said Fire Commissioner Salvatore Cassano. "And the Fire Fighter II is a symbol of our renewed strength."

The fireboat will be assigned to Marine 9, replacing the current 72-year-old ship, the Fire Fighter, named in honor of all FDNY members who have died in the line of duty.

"This boat is a commitment to our protection of New York's waterways," said Chief of Department Edward Kilduff. "In all regards, the Port of New York is well served."

Among the honored guests at the commissioning ceremony were Capt. Linda Fagan, Commander of the U.S. Coast Guard, New York sector; Staten Island Borough President James P. Molinaro; and Line of Duty families' representative Addie LaPiedra, widow of FDNY Capt. Scott LaPiedra.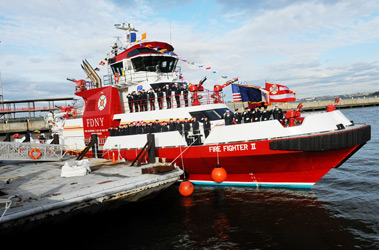 The Fire Fighter II is commissioned.
Also attending the ceremony was retired Marine Pilot Ed Sadler, who was assigned to work on the original Fire Fighter in 1938, three months after its commissioning. He continued to work aboard the vessel as a pilot for 35 years.

Fire Fighter II can pump 50,000 gallons of water per minute, as well as detect and protect firefighters from chemical, biological, radiological and nuclear agents.

She and her sister ship, the Three Forty Three (currently assigned to Marine 1 on the west side of Manhattan), were funded in large part by $54 million in grants from the Department of Homeland Security.

Fire Fighter II's original design is from naval architectural firm Robert Allan Ltd. of Vancouver, B.C. and was constructed by Eastern Shipbuilding Group of Panama City, Fla.

The FDNY Marine Fleet is responsible for over 450 miles of coastline and harbors and has protected New York City residents for 135 years.

"This is a historic moment for the FDNY," said Marine Unit Capt. John Stark, who is now assigned to the Fire Fighter II. "She will protect and serve New York for years to come."