The FDNY Holds Holiday Fire Safety Demonstration
Get the Flash Player to see this video.
The FDNY held a fire safety demonstration at the Fire Academy on Randalls Island on Dec. 6 to warn the public about the common fire risks associated with holiday festivities and decorating.
"With the use of caution, holidays can be safe, joyous and a lot of fun," said Fire Commissioner Salvatore Cassano. "It can be beautiful and safe with just a few precautions."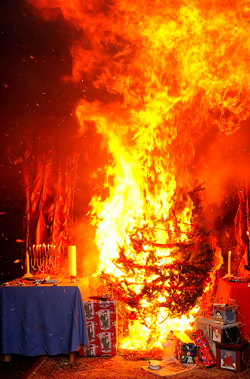 It only took three minutes for fire to engulf the mock apartment.
A mock apartment was set up with a Christmas tree, Menorah and Kwanzaa Kinara.
Lt. Anthony Mancuso, Director of the Fire Safety Education Unit, pointed out many of the fire safety hazards present in the simulated apartment, including extension cords run underneath a rug, space heaters near flammable materials, candles placed next to newspapers, too many strings of lights attached to one another and smoke alarms that were missing batteries.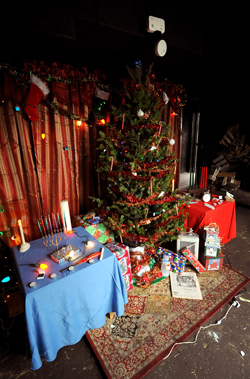 The simulated apartment at the Fire Academy before the fire.
"Safety is a religious requirement," said FDNY Chaplain Rabbi Joseph Potasnik.
Learn more about how you can keep your home fire safe this holiday season.