Phoenix Camp for Girls Introduces Young Women to Fire Service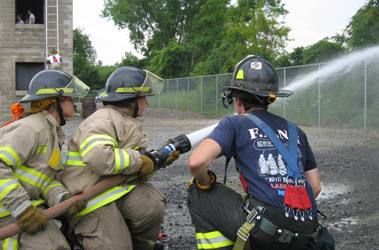 It's the chance of a lifetime for many young women dreaming of a career in fire or emergency medical services - the chance to be a firefighter for a week.
About 20 girls get that chance every year at Phoenix Firecamp.
"It builds self-confidence and self-esteem," said FDNY Fire Lt. Anna Schermerhorn-Collins from Engine 93, who is the Camp Director. "Then whatever they choose to do in the future, they know if they believe themselves and apply themselves there is little they can't do."
This year's camp ran from July 18 through 23.
Created by the Fire Service for Women in New York State in 2007, the camp brings girls ages 14 to 19 to Utica, New York, for an intensive, weeklong overnight camp that is free of charge. It's the first of its kind in the Northeast and only one of a handful nationwide.
All the instructors are all career and volunteer firefighters, who volunteer their time and pay their own lodging and travel expenses to take part in the program. In addition to Lt. Schermerhorn-Collins, there are several other FDNY members who participate, including Battalion Chief Rochelle Jones from Battalion 33, Lt. Michele Fitzsimmons from Engine 67, Lt. Anthony Mancuso from the Fire Safety Education Unit, Firefighter Maureen O'Neill from Engine 325, EMT Mattie Zion from Station 16, and retired Firefighters Eileen Gregan and Rick Tanagretta.
This is the first year that former students came back to help teach as well.
The campers live in a firehouse at the Utica Training Academy, sharing a large bunk room and dividing up the chores.
Much of what the campers do is similar to what FDNY firefighters experience at the Fire Academy. They are broken up into teams of four to five campers and do evolutions including climbing an aerial ladder, search and rescue, roof ventilation, disentanglement, bleed control, fire safety and water rescue.
This year, two of the 22 campers were from Brooklyn and one was from Staten Island.
Organizers say the program has sparked many careers in fire and emergency medical service.
"Our aim is to make this whole experience positive, give them train and opportunities, nothing negative," Lt. Schermerhorn-Collins said. "They see what the job is all about and they have a great time."
For more information about the program, visit www.fswnys.org.