Fire Safety Education Building Dedicated to Honor Charles Evans

FDNY members and the family of Charles Evans in front of the Charles Evans Fire Safety Education Building. (L to R) FDNY Chaplain Rabbi Joseph Potasnik, Chief of Training Thomas Galvin, Chief of Department Edward Kilduff, First Deputy Commissioner Don Shacknai, Fire Commissioner Salvatore Cassano, Evans' sister and member of the Charles Evans Foundation Alice Shure, Mr. Evans' wife Bonnie Evans, Tony Shure, Charles Evans, Jr., FDNY Foundation Board Member Nicholas Scoppetta and Chairman of the FDNY Foundation Board Steve Ruzow.

After losing his wife and two daughters in a 1975 fire, Charles Evans became a strong proponent of fire safety education and the use of smoke alarms. So on Apr. 28, in appreciation of a generous donation from his namesake foundation and his long-lasting legacy, the Department named fire safety headquarters at Fort Totten, the Charles Evans Fire Safety Education Building.
"He became an advocate of fire safety before its time," said Fire Commissioner Salvatore Cassano.
Mr. Evans was known as founder of fashion house Evan-Picone, a film producer at Paramount Studios and real estate mogul.
In 1975, his former wife, Frances, and their two daughters, Elizabeth and Melissa, died in a fire caused by errant ashes from their fireplace.
His son, Charles Evans, Jr., who survived the fire, said, "Many people take firefighters for granted, but not me. When I was 12-years-old they saved my life."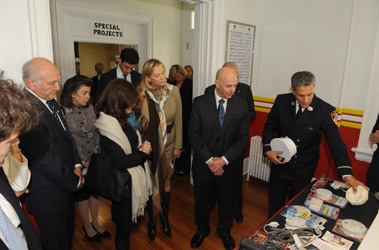 Lt. Anthony Mancuso gives the Evans family a tour of the Charles Evans Fire Safety Building.
After the tragedy, Mr. Evans created the Crusade for Fire Detection, aimed at educating the public on the need for smoke alarms in the home and office. He also lobbied to create laws that would make these alarms compulsory in the home.
And, his family said, in an effort to prevent anyone from suffering a similar tragedy, he regularly gave smoke alarms as gifts.
Mr. Evans, Jr., remembered his father's office filled with such devices, looking almost like "a smoke alarm factory." He said his father found much satisfaction from reading thank you letters from people who were saved by these alarms.
The Charles Evans Foundation donated $1 million to the FDNY Foundation for fire safety education efforts, including the purchase of smoke alarms.
"Fire prevention is just as important as fighting fires," said former Fire Commissioner Nicholas Scoppetta, who is on the FDNY Foundation's Board of Directors. "This generous donation will help enormously in spreading the fire safety message."