Firefighters Reunited with Man They Saved in a Church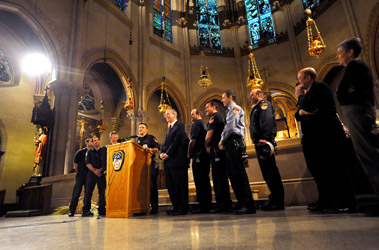 Firefighter Chris Viola from Engine 65, tells how he and his company helped save the life of Dr. Sharer.
Dr. Leroy Sharer was attending the Church of St. Mary the Virgin in Midtown Manhattan on Jan. 6, 2010, listening to a mass celebrating the Feast of the Epiphany and singing for the congregation. After his performance, he said he sat in a chair on the right side of the altar.
Others would have to tell him what happened in the next four hours.
The pathologist had fallen out of his chair, hit his head and started turning blue - he was in cardiac arrest.
Yet, because others stepped forward to help, performing CPR and calling 911, he was able to return to the church and greet his rescuers, including firefighters from Engine 65, on April 1.
"You really saved my life, I owe you a debt of gratitude that is difficult - impossible - to repay," said Dr. Sharer.
Fire Commissioner Salvatore Cassano added, "Sometimes it doesn't take a miracle to save a life."
He has been a member of the church on West 46th Street since 1976. When medical help is needed in the church, he said he's usually the person the congregation turns to.
Yet, when he fell, the church needed to find someone to help the doctor.
"It was not easy to stand at the pulpit and ask if there was a doctor or a nurse that could help [Dr. Sharer]," Father Stephen Gerth said.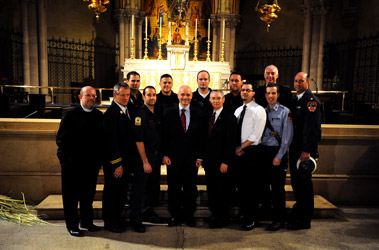 (L to R) Father James Ross Smith, DC James Hodgens, FF John Paul Rosselli, FF Mike Terriberry, FF Chris Viola, Fire Commissioner Salvatore Cassano, FF Mike Eddy, Dr. Leroy Sharer, FF Mark Browne, Ricardo Miranda, Lt. Scott Barvels, Father Stephen Gerth, BC Jerry Horton.
As someone from the congregation called 911, Ricardo Miranda nervously volunteered to help do CPR with Father James Ross Smith and a nurse on the altar in front of several hundred parishioners. He was hesitant to help, he said, because he had learned CPR more than 20 years before, and was afraid he would not remember how to perform the life-saving action.
"But if you know anything about [CPR], you need to help," he said.
Moments later, the members of Engine 65 arrived on the scene.
As they walked through the crowd, Firefighter Chris Viola said, "I was nervous. I knew we'd really have to perform."
The group continued chest compressions and shocked his chest with a defibrillator. They were able to regain his pulse before he was transported to Roosevelt Hospital. It was determined that he has coronary artery disease.
"I can't thank the FDNY enough," said Father Gerth.
Dr. Sharer added, "I'm so fortunate to be alive today. I don't need anyone to tell me that."
The FDNY Mobile CPR training Unit offers free CPR training at EMS stations and New York Sports Club locations every week.
For more information on how you can learn CPR, visit www.nyc.gov/service or call 311.