Mayor Bloomberg Honors Members of the USAR Team
Members of the joint FDNY and NYPD Urban Search and Rescue team that traveled to Port-au-Prince, Haiti, following the devastating earthquake on Jan. 12. The team is joined on the steps of City Hall by Fire Commissioner Salvatore Cassano, Police Commissioner Ray Kelly and OEM Commissioner Joe Bruno.

Mayor Michael Bloomberg recognized the members of the Urban Search and Rescue (USAR) team, New York Task Force 1, at City Hall on Jan. 26, commending them for their hard work in Haiti.
"The team made us proud," said Mayor Bloomberg. "They didn't hesitate to step up and volunteer. On behalf of all New Yorkers, thank you."
The members were praised for saving the lives of six people in Port-au-Prince following the devastating earthquake.
Battalion Chief Joe Downey, who served as the Task Force Leader on this mission, said the Haitian people were kind and welcoming to the team from the moment they arrived. And he commended the FDNY and NYPD team members for their hard work and willingness to help.
"When we arrived in Haiti, all we wanted to do was make an impact, there were many lives to be saved," he said. "Each had a responsibility and they gave 100 percent."
Their rescues included two adults and one child from a collapsed grocery store, a 55-year-old man in a collapsed four-story building, and a brother and sister who were trapped for eight days.
Battalion Chief Joe Downey, who served as the Task Force Leader on this mission, described the dramatic rescue of the siblings, which caught the nation's attention as video of the event was broadcast.
He said the team was returning from a 12-hour shift at around 4:45 p.m., during which they had found no survivors.
As they walked with a USAR team from Virginia, a police officer flagged them down and asked if they could help a man reach his children, saying, "If you're too busy you can come back tomorrow."
They found the children's father digging through rubble with a crowbar, which he had been doing for eight days, passing water to his children through a void in the debris.
Members immediately put a search camera and located the children in a void. They measured how deep they were under the debris and then began "delayering" the three stories of unstable rubble above them.
Four hours later they reached the boy, who, at first, was scared of his rescuers. The boy's mother then helped ease his worry and he was pulled to safety - his arms outstretched in celebration.
"It was the most incredible feeling," said Chief Downey.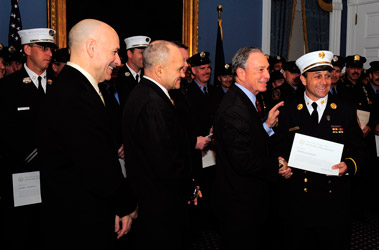 Chief Joe Downey, whose father started the Urban Search and Rescue team before his death at the World Trade Center, receives a certificate of appreciation from Mayor Michael Bloomberg, Fire Commissioner Salvatore Cassano and Police Commissioner Ray Kelly.
The young boy's sister was behind a chair in the same void, so moments later they were able to free her as well.
Doctors administered an IV to replenish fluids, but Chief Downey said, "Other than that, they looked like they were ready to play when they came out of the hole."
Members of the Haitian community in New York City also spoke at the ceremony, thanking the USAR team for its hard work.
At the end of the ceremony the team presented Mayor Bloomberg with the U.S. flag that was flown over their booth in Haiti.
Lt. William Redden from Squad 252 summed up the experience by saying, "This was [the team's] finest hour to date. They did a fantastic job. They were met with they met with terrible conditions, adapted, overcame and mission accomplished."