Edward Kilduff Sworn in as Chief of Department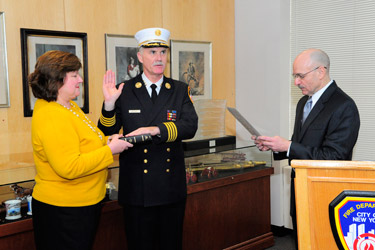 Fire Commissioner Salvatore Cassano administers the Oath of Office to Edward Kilduff, who was sworn in as the FDNY's 34th Chief of Department with his wife, Kathy, at his side.

Edward Kilduff was sworn in as the Department's 34th Chief of Department - the agency's highest ranking uniform position - on Jan. 13, during a ceremony at FDNY Headquarters.
"He's a natural - he fits the part, he is the part," said Fire Commissioner Salvatore Cassano. "His career speaks for itself."
Chief Kilduff is a 32-year veteran of the FDNY who served for five years as the Department's Brooklyn Borough Commander. He succeeds Commissioner Cassano, who served as Chief of Department for four years before being appointed Fire Commissioner.
"I have a lot of tradition to uphold," Chief Kilduff said. "But I know everyone in the field and here at Headquarters will help me move the Department forward."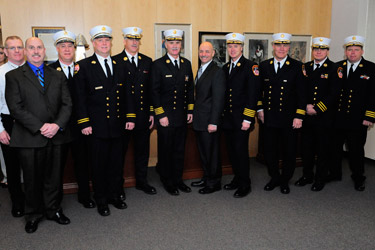 FDNY staff chiefs congratulate the new Chief of Department Edward Kilduff. (L to R) Chief Thomas Galvin, Chief Robert Byrnes, Chief Michael Gala, Chief Stephen Raynis, Chief William Seelig, Chief Kilduff, Fire Commissioner Salvatore Cassano, Chief of Operations Robert Sweeney, Chief John Sudnik, Chief Joseph Woznica and Chief Robert Maynes.
After he was handed his new helmet front piece and badge, the Chief added, "Just to have these in my hand is a remarkable feeling. I have the highest respect for so many people who have held this position, and I'm so grateful [Commissioner Cassano] chose me."
Learn more about Chief Kilduff's distinguished career.