Change Your Clock, Change Your Battery
City-Wide Campaign Spring-2009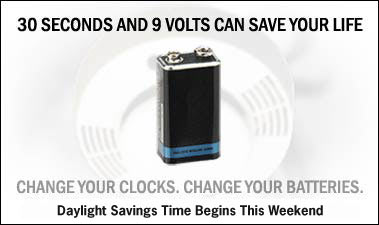 Seventy percent of fire-related deaths occur in homes not equipped with a smoke alarm, or in homes where the smoke alarm was not operable, due to a missing or dead battery.
One of the key messages of fire safety education is that smoke alarms are designed to provide early warning of a fire, allowing sufficient time to reach safety.
In order to get this critical message to the public that a working smoke alarm will increase your chances of surviving a fire by fifty percent , the Fire Safety Education Unit of the Fire Department New York is conducting a "Change Your Clock, Change Your Battery" education outreach, taking advantage of the well-publicized Daylight Saving Time on March 8, 2009.
On Friday, March 6, 2009, teams of Fire Safety Educators will be strategically assigned in high-risk fire and densely populated communities throughout the five boroughs, distributing fresh 9 volt batteries for smoke alarms and important fire safety education in multiple languages.
The batteries have been donated by the FDNY Foundation, the official fundraising organization for the FDNY in partnership with Duracell.
Below, please find the locations and times the FDNY will be distributing batteries and fire safety information.

Queens
Jamaica Centre Parsons/Archer Train Station
Hours: 4pm-6pm
Flushing-Main Street Train Station IRT
Hours: 4pm-6pm
Brooklyn
85th Street and 18th Avenue-D Line
Hours: 4pm-6pm
Broadway (East New York) Junction Complex-Jamaica Avenue/Fulton Street
Hours: 4pm-6pm
Staten Island
Staten Island Ferry-St. George
Hours: 4pm-6pm
Kmart Shopping Center
2660 Hylan Blvd
Hours: 12noon-2pm
Manhattan
West 168th Street and Broadway Train Station
Hours: 4pm-6pm
Corner of 350 W125th Street
Hours: 12noon-2pm
Bronx
East 161St Street and River Avenue/Yankee Stadium Train Station
Hours: 4pm-6pm

Fordham Plaza
430 East Fordham Road
Hours: 12noon-2pm
Second Anniversary of WoodyCrest/Highbridge Fatal Fire
The FDNY will be participating in the Bronx Community Board 4 "Community Service Coordination Day" in recognition of the second anniversary of the Magassa Soumare tragedy on March 7th 2007. The 3 alarm fire that day took the lives of 10 members of 1 family, including 9 children. In memory of this tragic loss, several city and private sector agencies coordinated by community leaders will provide emergency preparedness education to the Bronx community. The event will be held on Saturday, March 7, 2009 at PS 73, 1020 Anderson Avenue from 11am to 2pm.
For more information contact Bronx Community Board 4 at 718-299-0800