FDNY Hosts CPR Training in all Five Boroughs as Part of NYC Service Initiative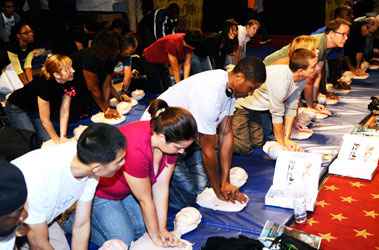 Volunteers learn CPR in the City Council Chambers at City Hall on Sept. 12.

Continuing the National Day of Service and Remembrance, approximately 500 volunteers learned cardiopulmonary resuscitation (CPR) through free FDNY and NYC Service-sponsored training sessions held in all five boroughs on Sept. 12, 13 and 14.
"Performing CPR is critical because it provides immediate help to someone in need in those first moments before emergency responders arrive," said Fire Commissioner Nicholas Scoppetta. "I encourage every New Yorker to take advantage of this free training offered by our CPR Mobile Training Unit and ask them to pledge to share the knowledge gained with their loved ones."
Volunteers were given a CPR Anytime Personal Learning Kit, which includes an inflatable mannequin and a 22-minute instructional DVD. After learning how to do chest compressions and rescue breathing, the volunteers were urged to take the kit home and share their new skills with their loved ones.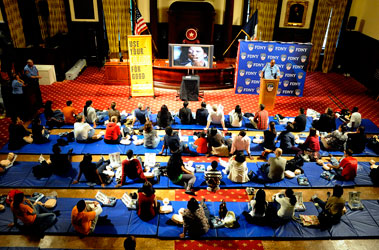 EMT Robert Crutch teaches CPR to volunteers at City Hall. Approximately 500 volunteers took part in free CPR training classes throughout the five boroughs on Sept. 12, 13 and 14.
"With your newly acquired skills you might end up saving the life of a family member, a friend, a neighbor or even a stranger on the subway," said Chief of EMS John Peruggia. "And if you do, you'll feel terrific at the end of the day."
The CPR Mobile Training Unit has trained more than 30,000 New Yorkers since it was created in 2005. Classes can be scheduled by calling the unit at (718) 281-3888.
"We want to get a million people trained on the basics of CPR and you can help get us there," said FDNY Legal Affairs Deputy Commissioner General Counsel Don Shacknai. "You can make a difference; you can save a person's life."