New Quarters for Marine 3 Opened in Brooklyn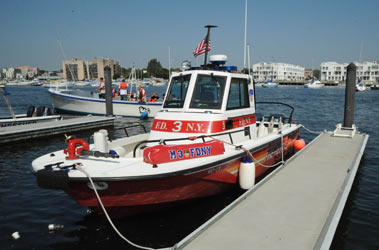 Marine 3's new, enhanced facility in Brooklyn will include 24-hour security, a new kitchen and bathroom, and a state-of-the-art floating concrete dock.
With clear skies above and the stirring sound of the Emerald Society's Pipes and Drums in the background, members of Marine 3 were welcomed into their new waterfront quarters on Sept. 18 at Kingsborough Community College in Brooklyn.
"The new quarters are a benefit to the whole city," Fire Commissioner Nicholas Scopetta said. "Not only does the public now have a well-housed marine unit where it really needs one, but we are sharing space with another great city institution, and that kind of consolidation is a very efficient way of doing business."
The enhanced facility will include 24-hour security, a new kitchen and bathroom, and a state-of-the-art floating concrete dock.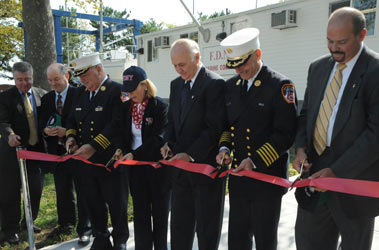 (L to R) Stu Suss, Provost, Kingsborough Community College; William Keller, Vice President and Head of Facilities, Kingsborough Community College; Patrick McNally, FDNY Chief of Operations; Dr. Regina Peruggi, President, Kingsborough Community College; Nicholas Scoppetta, Fire Commissioner; Salvatore Cassano, FDNY Chief of Department; and John Benanti, Deputy Fire Commissioner Bureau of Technology and Support Services.

"We would like to welcome the Fire Department and Marine Company 3 to the Kingsborough Community College family," said Regina Peruggi, President of Kingsborough Community College. "We are delighted to have you here and know you will continue to make a huge impact not only on our local waters, but also within our close knit community."
Members of the Fire Department's Marine Division also will be granted access to Kingsborough Community Colleges' Maritime Technology Program, a high-tech sailing simulator that puts students at the helm of various vessels to prepare them for careers on the water.
"Since we have started the small boat program, we've been able to respond to water-related emergencies even faster and more effectively than any other time in the Department's history," Chief Cassano said. "Today will only continue to help us fulfill our goal of providing safety on the city's waterways, just as we do every day throughout dozens of neighborhoods in all five boroughs."