Relics of St. Barbara, Patron Saint of Firefighters, at World Trade Center Site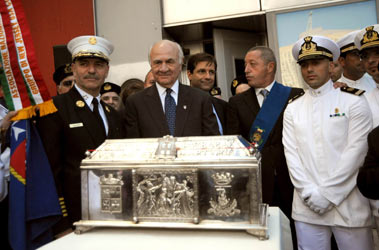 A special ceremony was held on Sept. 10 at Engine 10/Ladder 10 - across the street from the World Trade Center site - to welcome the delegation of St. Barbara, patron saint of firefighters.
St. Barbara's remains were brought to New York from Italy to mark the seventh anniversary of the Sept. 11 attacks.
"It means a great deal to our firefighters that their sacrifices are still remembered and honored by friends like you," said Fire Commissioner Nicholas Scoppetta, who greeted the delegation in Italian.
Dozens of dignitaries from Italy, members of the Italian Navy and firefighters from across Italy attended the ceremony honoring the lives lost on Sept. 11.
It was noted that Italy generously provided emotional and financial support to the New York City Fire Department and New York City in the days following the tragedy.
"I want to thank you from the bottom of our hearts for all you have done for us over the past seven years," said Chief of Department Salvatore Cassano.
Francesco Talo, the Italian Consul General, told the crowd, "Memory is what this is all about. I want to thank all those [firefighters] who protect us every day, they are like our angels."
Also attending the ceremony were retired Firefighter Vincent Tummino, Founder and President of the FDNY's Columbia Association; Mauro Boscolo Bisto, President of Venice Province Council; and Luciano Boscolo Cucco of the Italian Delegation.
Former Chief of Department and Executive Director of the International Columbia Association Daniel Nigro emceed the event and said, "This gesture can bring us comfort at a time and place it is deeply needed."
It is said that St. Barbara was killed by her father because she became a Christian, and he was subsequently struck by lightening. Christians began to pray for Barbara's protection from fires and lightening.