West Point Cadets Shadow FDNY EMTs

West Point Cadet Ty Lin (center) shadowed two
FDNY EMTs - Kevin Stringfield (left) and Erik Korzeniewski from Station 10.
Thirty eight West Point Military Academy cadets shadowed FDNY EMS members on July 14 and 15 as part of the prestigious university's new Cadet Medial Intensive Training (CMIT) program.
The summer elective program includes certification as a nationally registered EMT and military certification as a Combat Life Saver - which is military level medical training.
"For a lot of us, our job will involve combat arms, so it's important for us to know how to treat a soldier that's injured," said Cadet Ty Lin, a senior from San Francisco, Calif.
He shadowed EMTs Kevin Stringfield and Erik Korzeniewski from Station 10.
"All the cadets were very motivated," said EMT Stringfield, a 19-year veteran of the FDNY. "I wish we could keep [Cadet Lin]. The three of us would be unstoppable."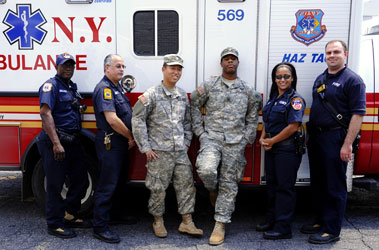 (L to R) Paramedic Daniel Mboh, EMT Alexander Martin, Cadet Bryan Lee, Cadet Jody Chapman,
EMT Bruny Ortega and Paramedic Brian Murphy.

EMT Bruny Ortega from Station 10 said she and her partner, EMT Alexander Martin, had Cadet Bryan Lee taking vitals and performing basic tasks while out on a medical run.
"He did really well, it was great to have an extra set of hands on the ambulance and it's a great learning experience for him," said EMT Martin, who has nearly 20 years on the job.
Cadet Lee, a junior from Anaheim, Calif., said he was thrilled to have the opportunity to follow the professionals.
"There's only so much you can learn from lectures and handling dummies," he said.
Cadet Jody Chapman, a senior from Fayetteville, N.C., agreed: "People don't have the opportunity to train like this, in a concrete jungle as opposed to a classroom."
He shadowed Paramedics Daniel Mboh and Brian Murphy from Station 10, who praised his skills in the field.
Paramedic Mboh added, "If they ever need to implement what they learned [in the CMIT course], this experience will help them a lot."