EMS Week Kicks Off on May 20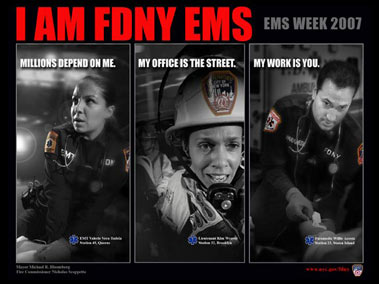 National Emergency Medical Service (EMS) Week kicked off on May 20, enabling the FDNY to honor the 3,000 members of the EMS Command.
The annual celebration recognizes the life-saving work that the City's Best do each day as events are held in every borough.
The week's events include:
EMS Memorial Bike Tour - Sunday, May 20 at 8 a.m. - EMS members gather at Station 20 at Jacobi Medical Center in the Bronx for a bike ride to Roanoke, Va., as part of the Annual National EMS Memorial Weekend.
Wreath Laying Ceremony - Monday, May 21 at 10 a.m. - This event celebrates the start of the 34th Annual National EMS Week and honors fallen members of FDNY Emergency Medical Service. This event will be held at the Carlos Lillo Memorial at Mount Sinai Hospital of Queens, 25-10 30th Ave., Long Island City, Queens.
7th Annual EMT/Paramedic Competition/Exhibition - Tuesday, May 22 at 8 a.m. - This event challenges EMTs and Paramedics as they put their skills to the test for a chance to represent the FDNY at the National EMS Competition in Orlando, Fla. this year. This competition will be held at the Metrotech Commons, 9 Metrotech Center, Brooklyn.
13th Annual Second Chance Brunch - Wednesday, May 23 at 10 a.m. (invitation only) - Survivors of cardiac arrest reuinte with EMS members, firefighters and others who helped give them a second chance at life. This year's event will be held at FDNY Fire Academy on Randall's Island.
EMS Medal Day 2007 - Thursday, May 24 at 10:30 a.m. - This ceremony recognizes the best of "The Best," honoring FDNY EMT's and paramedics who have gone above and beyond in the performance of their life-saving duties with the presentation of medals by Fire Commissioner Nicholas Scoppetta. This year's event will be held at the FDNY Headquarters Auditorium, 9 Metrotech Center, Brooklyn.
Station Appreciation Day - Friday, May 25 - Station commanding officers conduct various station-based events throughout the day to honor their members and provide outreach to the communities they serve.