FDNY Graduates Largest Paramedic Class in History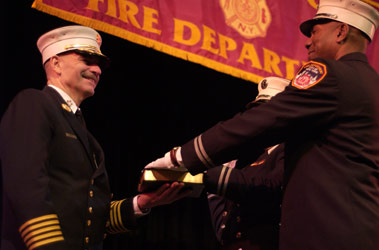 New York City got a little safer on December 10 as 80 paramedics graduated from the EMS Academy - the largest graduation of paramedics in City history.
The ceremony at New York Technical College in Brooklyn also included the promotion of two EMS deputy chiefs and graduation of 71 EMTs.
"Today is a great day for the Department," said Fire Commissioner Nicholas Scoppetta. "All of you are the future of EMS."
EMS Captains Katherine Fuchs and Roger Alee, both 24-year veterans of the FDNY, were promoted to the rank of deputy chief during the ceremony.
Among the group of new EMTs were three military veterans - EMTs Wallace Andrade, Reinaldo Guzman and Joshua Seidman. EMT Andrade served in Iraq with the Army Reserves, EMT Guzman served with the Navy Reserves and EMT Seidman served in Korea with the Army.
Also sworn in as an EMT was Tracey Calhoun, whose father, Captain Kevin Calhoun, is a member of the FDNY's Special Operations Command; and brother, Firefighter Kevin Calhoun, Jr., works at Ladder 107.
"We are confident in your ability and we know you will make us proud," said Chief of Department Salvatore Cassano.
The graduates speak Spanish, Cantonese, Chinese, French, Italian, Polish and Portuguese
Members the FDNY-EMS Command are provided with more advanced training than any other EMS agency in the world, including training for hazardous materials incidents. The graduates will be assigned to various EMS stations throughout the City.
"With this graduation we grow bigger, better and stronger," said Chief of EMS John Peruggia.