Ladder 125 Celebrates Centennial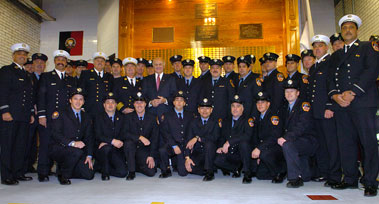 The past and present united on November 8 as members of Ladder 125 celebrated 100 years of service.
The ceremony, at the quarters of Engine 315/Ladder 125 in Fresh Meadows, Queens, drew numerous retired and active members who celebrated the firehouse's rich history.
"The members of this firehouse exemplify honor, dedication and respect," said Fire Commissioner Nicholas Scoppetta. "Thank you for your commitment to the city of New York."
Chief of Operations Patrick McNally added, "Many things have changed in 100 years, but the quality of firefighters that have come through these doors has remained constant."
During the ceremony, the company unveiled a wall listing the names of every member who has served at Engine 315 or Ladder 125 in the last 100 years.
Among the names was that of retired Deputy Assistant Chief Lucian Imundi, who served as captain of Ladder 125 when the company celebrated its 50th anniversary.
The father of six, and grandfather and great grandfather to 29, said he loved every day of his 35 years with the FDNY. After retiring in 1984, he said he spends all his time with his wife, Marion, on Long Island, but remembers with fondness his days as a firefighter.
"The equipment has changed, but not the firefighters," he said. "This was a great company and a great job."