Fire Commissioner Scoppetta Announces Changes to Citywide Building Inspection Program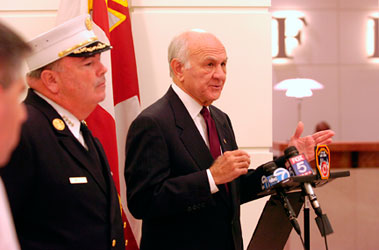 Fire Commissioner Nicholas Scoppetta on November 7 announced the implementation of several changes to the Department's citywide building inspection program.
The changes - which will greatly improve safety for firefighters and the public - result from a comprehensive review of the FDNY's citywide building inspection program ordered by Mayor Michael R. Bloomberg on August 27, 2007 in the wake of the deaths of Firefighters Joseph Graffagnino and Robert Beddia during a fire at 130 Liberty Street in Manhattan on August 18, 2007.
"This is going to allow us to make better use of our resources with technology, getting information in real time and increased fire prevention training," said Commissioner Scoppetta.
The following changes have been added to the program, including the name - from Apparatus Field Inspection Duty (AFID) to Building Inspection Safety Program (BISP) - to emphasize how safety is directly related to inspection work:
Implementation of a third inspection period each week for every field unit, increasing the amount of time - six to nine hours -- units will be scheduled for weekly building inspections. (Less than half of the scheduled inspection time for field units actually gets spent inspecting buildings due to emergency responses, inclement weather, etc.)
Creation of a new computer software program which indexes all buildings - more than 75 feet high that are under construction or demolition - for each individual field unit according to their particular area. This program is now tracking inspections and electronically reminds units when their next inspection is due.
Added oversight of field inspections by or at the Borough Command level, and additional oversight with compliance measures implemented at FDNY headquarters in Brooklyn.
The City's Department of Buildings now notifies the FDNY of new building or demolition permits issued. That information will be given to field units, which were previously instructed to canvass their areas to learn this information.
"This is a better way for us to account for our inspections and make use of our inspection time," Commissioner Scoppetta said. "It is a much more efficient and effective way to use our resources."
Other initiatives also are being developed to streamline building information and increase training at every level, including the following which are currently underway:
The FDNY is currently working with the City's Department of Information Technology and Telecommunications in planning an integration of all of our building inspection information, as well as improved information-sharing with the Department of Buildings and other City agencies.
The FDNY and DOB are partnering on a number of information-sharing initiatives, including the Fast-Track Pilot Program which enables chief officers to enter critical information about buildings directly into the DOB's Buildings Information System. This drastically reduces the notification and action time required for DOB officials to address structural concerns that could endanger our members or the public. A pilot program in Divisions 6 and 7 in the Bronx was successful, and soon, it will be expanded to other boroughs.
With the expansion of proby school at the Fire Academy, additional material on fire prevention and inspections has been added to the curriculum. Newly promoted officers at every level also will receive additional training on building inspections in their promotional courses, and a new course is being developed for fire prevention coordinators.