FDNY Wins Mayor's Cup in New York City Marathon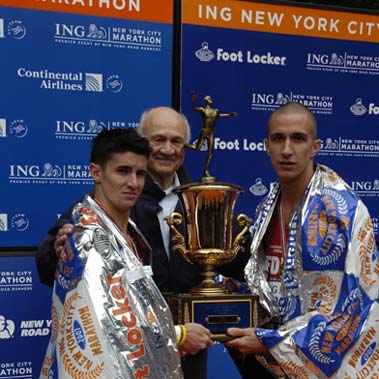 FDNY members defeated the NYPD in the annual ING New York City Marathon Mayor's Cup competition on November 4.
The competition was sponsored by Continental Airlines, which gave one million frequent flyer miles to the winning team. The FDNY team donated the miles to various charities.
First place went to Firefighter Kieran O'Neill of Engine 218, with a time of 2:58:05. Second place was won by Firefighter John Keaveny of Engine 273 (3:01:13) and third place went to Firefighter Denis Sweeney of Engine 81 (3:05:34).
This is the 21st win for the FDNY in the 26 years of the competition.
Among the many FDNY members running the marathon was Firefighter Thomas Grimshaw, a fitness instructor at the Fire Academy, who has run more than 30 New York City Marathons in a row. He finished this race in 4:03:56.
Also running were friends and family of Lt. Howard Carpluk of Engine 42, who died in the line of duty on August 28, 2006.