Firefighters and Rescue Paramedics Rescue Man in Manhattan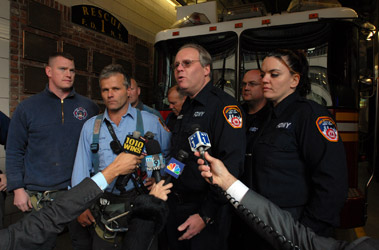 Firefighters from Rescue Company 1 and FDNY rescue paramedics saved the day for an excavator in Manhattan on November 2, when he fell more than 40 feet into a trench at 29th Street and Sixth Avenue.
He was ejected out of his excavator machine at around 9 a.m.
Firefighters from Rescue 1, Squad 18, Engine 1, Engine 3, Ladder 12 and Ladder 24 arrived on the scene and prepared to remove the victim.
In the fall, the victim had sustained a plateau fracture on the lower part of his right leg and was in severe pain.
When specially trained Rescue Paramedics Gary Smiley and Michelle Robbins from EMS Station 10 arrived on the scene, they were able to assess the victim's condition and begin treatment before he was removed from the trench. They began an intravenous line and gave him medication to dull the pain.
"Right away we were focused on managing his pain," said Paramedic Robbins.
So, Paramedic Smiley said: "Instead of him waiting for us, we brought the medical care to him."
Firefighters were able to remove the victim using a pulley system rigged up to their tower ladder.
"We all worked really well together and everything went very smoothly," said Lt. Glenn Berube of Rescue 1.
After he was removed, EMS transported him to St. Vincent's Hospital in stable condition.