Fire Commissioner Scoppetta Delivers Keynote Address on Disaster Preparedness at The New School's Conference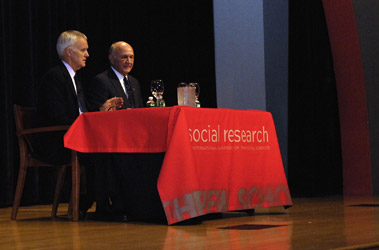 Fire Commissioner Nicholas Scoppetta delivered the keynote address on disaster preparedness at a social research conference at The New School in Manhattan on November 1.
The session was emceed by Bob Kerrey, president of The New School and member of the 9/11 Commission.
"In a city this size, anything can happen so two things are critical - capability and flexibility," said Commissioner Scoppetta.
The Commissioner discussed how the Department's training, technology and workforce have changed since the attacks of September 11, 2001.
"We don't know what the next disaster will be so we have to be prepared," he said. "We plan for an event not the event."
He also described many of the Department's newest programs and advancements in the wake of the terror attacks, including the development of Incident Management Teams (IMTs), increase in firefighter training, expansion of the Fire Department Operations Center and design of a new repeater system for communication in high-rise buildings.
After the address, Mr. Kerrey and members of the audience asked the Commissioner about everything from the FDNY's hurricane preparedness to first responder health issues.
"Thank you for your years of service and your intellect, compassion and patience," said Mr. Kerry said to Commissioner Scoppetta.