78 FDNY Members Promoted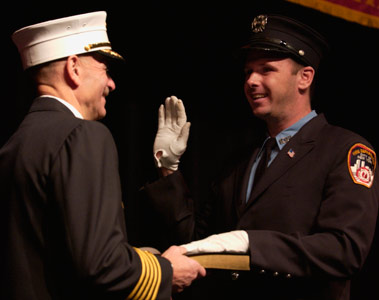 The FDNY celebrated family on November 2, as 22 captains, 45 lieutenants, eight supervising fire marshals, one provisional marine engineer and one provisional marine wiper were promoted in a ceremony at New York Technical College in Brooklyn.
"Every one of you worked very hard to get here and proved yourself in the field," said Fire Commissioner Nicholas Scoppetta. "Starting out on the job, you kept your eyes and ears open and learned from the best teacher of all - experience. Everything you learned, every fire you fought, all the promise you showed over the years has brought you to this moment - savor it, enjoy it, be proud."
Many of the promoted members come from firefighting lineage - among them were Capt. John Feehan, son of former First Deputy Commissioner William Feehan, who died on September 11; Lt. Peter Campbell, whose father is deputy chief of Division 11; and Lt. Chris Livolsi, whose father-in-law is Chief of Department Salvatore Cassano.
"You are not here because you're lucky, you're here because you persevered," said Chief Cassano. "With this responsibility comes a pride like no other."
The promoted members will be assigned to various units citywide.