Ladder Company 35 Celebrates its Centennial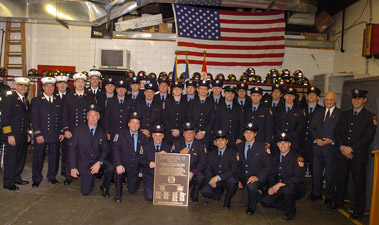 Dedication, commitment and courage were celebrated on November 1 as firefighters celebrated the 100th anniversary of Ladder 35 in Manhattan.
"This neighborhood, the City and our country has changed dramatically since Ladder 35 was formed," said Fire Commissioner Nicholas Scoppetta. "But what hasn't changed are the qualities you have that make this the greatest fire department in the world."
The members of Engine 40/Ladder 35, located on the Upper West Side, responds to many of the City's top attractions, including Lincoln Center, and various high-rise office and apartment buildings.
They respond to approximately 2,500 calls each year.
"This house has set a high standard that others in the city follow," Chief of Department Salvatore Cassano said.
Battalion Chief Charles Williams of Battalion 9 added, "What we're here for today is not the house itself, but the people who have walked through these doors and served the community for the last 100 years."
Firefighters of Ladder 35 have been honored many times for their acts of heroism, including Firefighter Joseph Almon, who received the James Gordon Bennett Medal - the Department's highest honor - for rescuing a woman from the Mayflower Hotel in 1961.
"It was always a privilege to serve here with some of the most competent, dedicated people I've ever met," said retired Firefighter Terry Holden, who worked out of the firehouse for 38 years before retiring in 2002.
Tragically, several members of Engine 40/Ladder 35 have made the Supreme Sacrifice in the last 100 years, including 11 on September 11, 2001.
"Every day that I have walked through these doors has been happy, except for one - September 11, 2001," said Firefighter Mike Kotula, who has served more than 25 years in the firehouse. "We will always honor and remember the sacrifice of our members who died that day."
As the company looks to its next 100 years, Ladder 35 Captain John Miles gave a little advice to the current members: "Try to give back to this Department more than it gives you and you will make all our retired members proud."