FDNY Receives MERV from SI Borough President Molinaro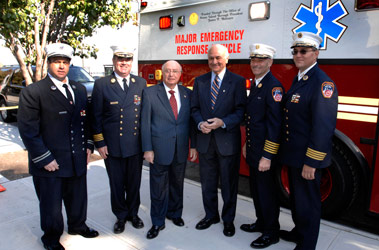 It could be called the gift of life.
Fire Commissioner Nicholas Scoppetta, Chief of Department Salvatore Cassano and Chief of EMS John Peruggia on October 30 graciously accepted on behalf of the FDNY a Major Emergency Response Vehicle (MERV) for Staten Island's Emergency Medical Service from Staten Island Borough President James P. Molinaro, who allocated funds for the vehicle.
"This MERV will undoubtedly save lives," said Commissioner Scoppetta during the press conference outside Staten Island Borough Hall. "Borough President Molinaro, you have done a tremendous service for your community by donating this vehicle."
The MERV acts as a 'portable emergency room' that can accommodate 15 to 20 victims at one time. It includes a generator, large oxygen cylinders and nerve antidote that can be used by EMS members and response physicians.
The vehicle will be staffed 24 hours a day, seven days a week by members of the FDNY EMS Command and will support their response to large emergencies - including building collapses and major fires.
It will be assigned to EMS Division 5 and stationed at EMS Station 22 at Sea View Hospital Rehabilitation Center and Home.
This is the Department's fourth MERV, and the first to be stationed on Staten Island.
"It's truly amazing what these 14,000 [members of the FDNY] do each day," said Borough President Molinaro. "And we will never know how many lives this vehicle will help save."
The Borough President said he knows firsthand the importance of first response. On August 8, he suffered a heart attack and was driven to the hospital by his top aide, Deputy Borough President Edward Burke.
During the ceremony, the Deputy Borough President was presented with a certificate of achievement, naming him an honorary FDNY EMT.
Borough President Molinaro also received a certificate of appreciation for his dedication and commitment to supporting the FDNY.