FDNY Members Respond to California Wildfires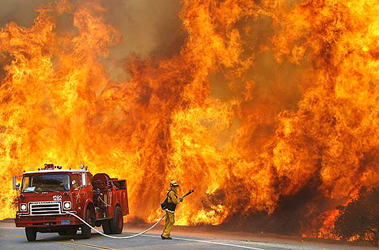 Photo: A California Department of Forestry firefighter is dwarfed by flames along East Grade Road on Palomar Mountain. Photo courtesy of Wally Skalij / Los Angeles Times. October 24, 2007.
As California firefighters continue to battle the wildfires that are ravaging the southern portion of the state, New York City firefighters are flying in to help.
Five FDNY firefighters were sent to support operations at the Santiago Fire near San Diego, California on October 24 and 25.
"We're building a little city here and getting everybody in shape so they can do the difficult work they need to do to put this fire out," said Chief Charlie Williams, Battalion 9.
He and Chief Dan Martinetion (Battalion 1/Safety), Lt. Chris Kendall (Battalion 13), Firefighter James Youngson (Ladder 133) and Firefighter Paul Cohn (Ladder 43) are responding as part of the Southwest Type 1 Incident Management Team (IMT), which includes approximately 50 members. The team is working as a unified command with Cal Fire and the Orange County Fire Department.
The FDNY members are part of the logistics division of the IMT, which secures the supplies rescuers need - from excavators to Gatorade.
"Everyone here is doing an excellent job," Chief Williams said.
As of October 26, he said there were more than 1,500 rescuers working to extinguish the fire, which is about 30 percent contained. The fire has already destroyed more than 20,000 acres of land.
Yet although he noted the skill and strength of the California firefighters, he said there is no way to judge how long it will take to bring the fire under control.
"The wind has subsided substantially to what it was a few days ago, and we're making great progress," he said. "But they tread lightly on making any predictions."
The team is sleeping in tents for the entirety of their two week deployment and Chief Williams said they are happy to help the California firefighters in any way they can.
"We just want everyone to get home safe," he said.
In addition to the IMT deployment, nine active and retired FDNY members were sent to the area with the American Red Cross Disaster Assistance Response Team (DART) on October 23 and 24, including Firefighters Richard J. Marucheau (Engine 279), Douglas J. Bainton (Ladder 20), Daniel F. Longhi (Engine 301), Richard C. Stewart (Ladder 20); Retired Firefighters Mike C. Mondello (Ladder 41 and DART Vice Chair), Joe Riccardi (Engine 257), John Carter (Ladder 23), Kevin M. Shea (HAZ-MAT OPS); and Retired Supervising Fire Marshal Kevin Wallace (BFI).
All members are responding on their own time, with the active members using their vacations for the deployment. They will respond as volunteers, and will work in various capacities as needed.