Engine 302 Celebrates Centennial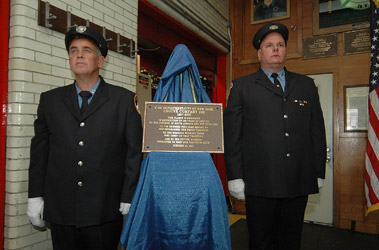 It was a day to honor a firehouse's past, present and future as firefighters from Engine 302 in South Ozone Park, Queens, celebrated 100 years of service on October 23.
"You have been there for the residents of this neighborhood for years - a huge responsibility that you have carried well," said Fire Commissioner Nicholas Scoppetta.
The firehouse is first due to emergencies in South Ozone Park and South Jamaica, Queens, including John F. Kennedy Airport.
Among the many major emergencies to which Engine 302's firefighters have responded are the crashes of Eastern Air Lines Flight 66 in 1975 and American Airlines Flight 587 in 2001.
"The members of Engine 302 represent all this Department stands for - bravery, honor and service," said Chief of Department Salvatore Cassano.
The company has been known as one of the Department's busiest. Although they recorded only 13 runs in their first year of service in 1907, by 1971 they made more than 4,100 runs and in 1992 they made 4,200.
"You are a special group of people," said Captain Anthony Varriale of Engine 302. "Your dedication is second to none."