41st Anniversary of the 23rd Street Fire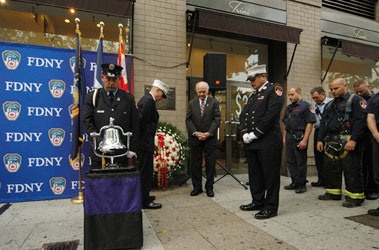 Fire Commissioner Nicholas Scoppetta, Chief of Department Salvatore J. Cassano and other FDNY officials paid tribute on October 17, 2007 to 12 of New York's Bravest who were killed in the line of duty on October 17, 1966 in what has become known as the 23rd Street Fire. "It's extremely important to never forget. And that is why we gather here today," said Commissioner Scoppetta.
Members of every rank, from a probationary firefighter to a Deputy Chief, made the Supreme Sacrifice when the floor of the Wonder Drug store at 23rd Street and Broadway collapsed into the cellar. Flames burned away support beams in the basement, and the members fell through the floor or were overcome by an explosion of flames.
The five-alarm Manhattan blaze was the single most devastating loss of firefighters before 9/11 and is remembered as one of the most tragic events in the 143-year history of the Department. Members of Ladder Company 7 and Squad 18, along with the families of the 12 that were killed that evening, gathered in the same location to honor the lives of the brave firefighters during a memorial wreath-laying ceremony.