Firefighter Kevin Duggan spends 10 days helping perform free medical care to less fortunate in Ecuador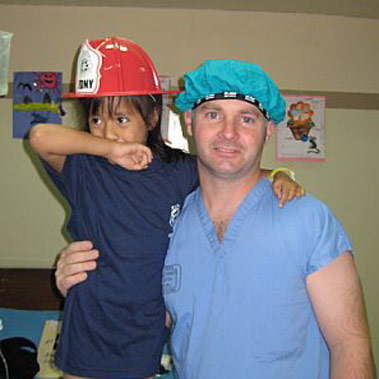 Less than 24 hours before his flight takes off for his 10 day trip to Ecuador, Firefighter Kevin Duggan of Engine 263 is still packing his suitcases.
He is filling one with comfortable clothes for the country's summer climate (including firehouse t-shirts) and red plastic fire helmets for the native children. The other is filled with medical supplies.
Firefighter Duggan flew to Guayaquil, Ecuador on September 28 as part of a humanitarian mission with Healing the Children. The nonprofit organization provides free medical care to children and families in need around the world.
"It was such an adrenaline rush," Firefighter Duggan, a registered nurse, said after returning home. "We did so much more than we anticipated."
Working 16 hour days, he and a team of more than 40 medical professionals - including surgeons, pediatricians and anesthesiologists - performed more than 200 surgeries on 180 patients at a military hospital.
The mission was publicized in the local media prior to the team's arrival and many of the patients traveled more than 17 hours just for a consultation with doctors.
The medical team often performed three surgeries in the same operating room, just to keep up with the demand, including cleft palate surgeries, hysterectomies and even removal of a 28-pound tumor from a woman's abdomen.

Firefighter Duggan said they tried to help as many people as they could with the equipment they had.
"We needed to be on our toes and use every last piece of equipment we had," he said.
Yet he added that many patients still need follow up care and the medical team continues to gather resources to fly some of the patients to the United States for additional treatments that they would perform free of charge.
Firefighter Duggan said he was struck by the appreciation and kindness of all the Ecuadorians he met.
"They were so grateful for everything," he said. "There were points where I just had to stop and say wow. These people were so poor, yet so happy."
Before joining the Department in 2004, Firefighter Duggan said he had worked with several of his fellow medical team members at John T. Mather Memorial Hospital in Port Jefferson, NY, including the team leader, Nurse Anesthetist Galo Burbano.
Before the trip, Burbano noted that the firefighter's skills "would be a great contribution to the success of our mission."
Firefighter Duggan said he enjoyed the trip so much he is already planning to take another trip with the group to Peru next year.
"I enjoy helping people that's why I became a nurse and a firefighter," said Firefighter Duggan.
To learn more about Healing the Children or to donate, visit www.htcne.org or www.blancashouse.com. You can designate your donation to support Burbano's Team.