Firefighters from Engine 59 Save Choking Victim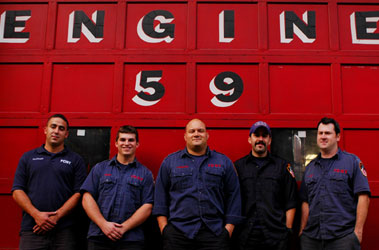 One of the best parts of a firefighter's job is the ability to save lives.
The members of Engine 59 proved it on October 15 when they resuscitated a 64-year-old Harlem man who was choking.
Captain Patrick Cleary and Firefighters Joseph Parmentier, Michael Trahan, Jr., John Moran and Patrick Cullingford rushed to 4 West 125th Street at around 1 p.m.
When they arrived, a woman was frantically waving them into the basement of the building.
"We could tell the urgency of the situation right away," Firefighter Parmentier said.
They found the victim limp, unconscious and turning blue in the bathroom.
Immediately Firefighter Parmentier performed the Heimlich maneuver as Firefighter Trahan and the other members of the company held the victim. After several tries, the firefighters dislodged the obstruction and the man began breathing again.
To the surprise of the rescue workers, the victim was almost immediately able to answer questions.
"When we arrived the victim was lifeless, there was nothing positive about the situation," said Captain Cleary. "He was dead for sure if [the firefighters] didn't do their job. It doesn't normally work out this well.
Firefighters added that they could not have done their job so well if it were not for the responding FDNY EMS members who helped stabilize the patient and transport him to North General Hospital.