Lt. Lance Ogren Participated in the Ederle Swim in the Hudson River for a Good Cause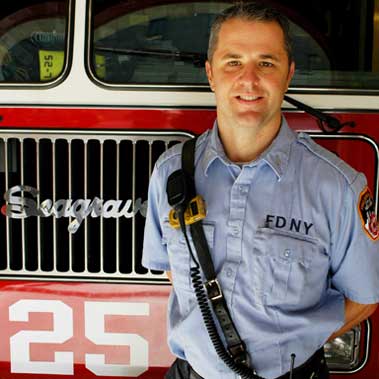 Imagine swimming in what feels like a huge washing machine for six hours and 54 minutes as you try to dodge numerous obstacles (namely, freighter ships).
Sound impossible?
Well it is just what Lieutenant Lance Ogren of Ladder 25 did on October 6 as he participated in the 2nd Annual Manhattan Island Foundation's Ederle Swim from Battery Park in Manhattan to Sandy Hook, NJ, in memory of his twin brother, Firefighter Joseph Ogren, who died on September 11.
But he didn't just complete the 17.5 mile swim challenge - he also raised more than $3,000 for the World Trade Center Memorial in conjunction with a Cobblestone Campaign that brought in more than $32,000 (which enables people to donate funds for cobblestones that will line the WTC Memorial Plaza).
"It was exhausting," said Lt. Ogren just days after the race. "But it was great. It was such a special thing for me."
It was a challenge that seemed to be created for the 11 year veteran of the FDNY. The swim began just steps from the tragic World Trade Center site. Lt. Ogren then had to swim under the Verrazano-Narrows Bridge - that he used to take all the time growing up on Staten Island - past the house in which his grandmother once lived before arriving in Sandy Hook, NJ, where he and his brother used to lifeguard as kids.
"I felt like [the Swim] was meant to be," said Lt. Ogren. "To do this and raise money for the Trade Center … it was too perfect. People just came and helped me out along the way, it was amazing."
Lt. Ogren has been swimming all his life. He and Joseph swam competitively in high school and both won swim scholarships at St. John's University. He also was part of the NYPD scuba team before joining the Department in 1996.
When he first became a firefighter, he read about Captain Thomas Dolan's (Ladder 175) swim around Manhattan and said, "It planted the seed. I thought, 'someday I'll do it,' and 11 years later, here I am."
To qualify for the Ederle Swim, Lt. Ogren had to swim for three hours in water that was 63 degrees or colder.
He trained for more than nine months, at Chelsea Piers on weekdays and in the waters off Coney Island on the weekend for up to three hours a day, six days a week.
The Hudson River was 69 degrees on the day of the challenge, and because of fog, the start was postponed for three hours.
Once it got underway, Lt. Ogren was followed by a boat, carrying his coach and his sister, as well as a kayaker, who would feed and give him water along the way. He said they were also there to keep him on course - the current was strong and since the waterways remained open, he often had to dodge large freighter ships.
Yet, he said, the most difficult part of the swim came once he passed the Verrazano-Narrows and was in the open waters. Besides dealing with the turbulent water, he also lost any landmarks that would indicate his progress.
"In between hours five and six, I was pretty happy I'd done the prep work," he said with a smile. "I didn't think I was ever going to get there."
When he finished, he said everyone expected he would never want to swim such a distance again.
"They think I'll be able to turn it off, but it's way too rewarding," he said, adding that he was looking forward to his next swim.
And what would his brother have said about his accomplishment?
"I think he would say, 'I could do that. It's not that special,'" he said laughing. "And there's no doubt he could have."
To donate to FF Lance Ogren's Cobblestone Campaign visit http://www.buildthememorial.org/site/PageServer?pagename=swim