FDNY Members Rescue Worker Who Fell at Construction Site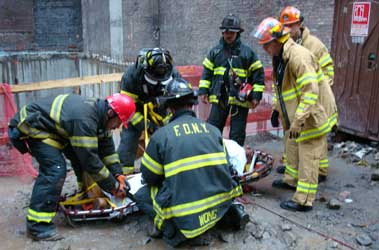 Firefighters from Engine 8, Ladder 2, Rescue 1 and Squad 18 rescued a worker who fell more than 25 feet into a construction site at Madison Avenue and 53rd Street in Manhattan on October 12.
The worker was walking around the perimeter of the site at around 7:45 a.m. when he fell into a crater dug for a new high-rise building.
Firefighters from Engine 8 and Ladder 2 were the first to arrive and began preparing the victim for removal.
Since the only means of egress from the hole were a winding set of steps, firefighters from Rescue 1 placed him on their stokes basket and ran their high angle ropes through the rungs of the ladder on Ladder 2's truck.
They then positioned the ladder over the hole and the victim was lifted from the hole to the street. Firefighter Thomas Gayron from Rescue 1 was lifted from the hole with the victim for support.
Once they reached street level, an FDNY ambulance transported the victim to Bellevue Hospital.
"Everyone involved did an excellent job," said Lt. Tony Tarabocchia from Rescue 1. "We train to do this, so when it happens, we're ready."