16 Graduate, 17 Honored During Bureau of Fire Prevention Ceremony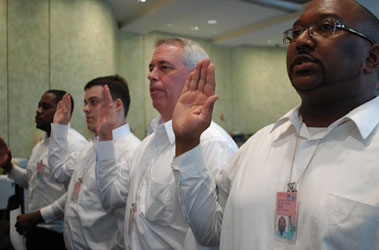 The FDNY's Bureau of Fire Prevention swore in 16 new fire protection inspectors and honored 17 inspectors for outstanding service during a ceremony at FDNY Headquarters on October 11.
"The importance of the work you do cannot be overemphasized," said Fire Commissioner Nicholas Scoppetta. "Preventing fires is the best way to fight fires and you are our first line of defense in preventing fires."
Fire protection inspectors check commercial and public buildings for fire hazards by examining, for example, sprinklers and range hoods.
Inspectors ensure all necessary fire code permits are in place and can issue summonses for violations. In fiscal year 2007, the unit performed more than 200,000 inspections throughout New York City.
"What you do - while it may go unnoticed by some - is extremely important," said Chief of Department Salvatore Cassano. "Your work keeps New York safe, it keeps our members safe."
Chief of Fire Prevention Thomas Jensen added, "I continue to be impressed by the people and work done here. Preventing fires is far more efficient than fighting fires."