FDNY Memorial Day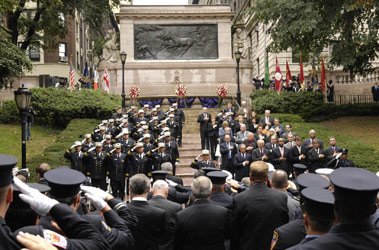 The Fire Department paused to pay tribute to the 10 FDNY members who have died in the past year at the 100th Annual Memorial Service at the Firefighters Memorial Monument in Manhattan's Riverside Park on October 10.
"Their job was more than a profession, it was a calling," said Mayor Michael Bloomberg. "Each exhibited a fearless dedication to his duty and an allegiance to New York City."
Thousands of FDNY members gathered to honor Firefighters Daniel Pujdak, Robert Beddia and Joseph Graffagnino, who died in the line of duty this year. Also remembered in the ceremony were Captain Francis T. Keane, Lieutenant Joseph P. Colleluori Jr. and Firefighters Christopher M. Logan, David Minerly, William R. St. George, and, EMT Lawrence E. Marx and Dr. Joseph Cole, MD, all of whom died in the last year.
"These men take their place among our honored dead," said Fire Commissioner Nicholas Scoppetta. "We will never forget them, or the countless others we have lost, whether in the line-of-duty or not. We will never forget their families, who bravely carry on without them. And we will never forget the work that all of our firefighters and fire officers do every day to keep us all safe."
Firefighter Pujdak of Ladder 146 died in the line of duty while operating at an all-hands fire at 83 Meserole Street in East Williamsburg, Brooklyn on June 21. He sustained critical injuries when he fell from the roof of a four-story building.
Firefighter Beddia of Engine 24 and Firefighter Graffagnino of Ladder 5 made the Supreme Sacrifice while battling a high-rise fire at the former Deutsche Bank building at 130 Liberty Street in lower Manhattan. They suffered severe smoke inhalation and later succumbed to their injuries.
"Today we confront the reality of the job - that it is a dangerous one," said Chief of Department Salvatore Cassano. "The truth of the job is that any firefighter is willing to risk his or her life on to save another firefighter or a complete stranger."
Commissioner Scoppetta presented the families of Firefighters Pujdak, Beddia and Graffagnino with an FDNY flag and Medal of Valor. The Uniformed Fire Officers Association and Uniformed Firefighters Association also presented them with a Medal of Supreme Sacrifice.
A total of 1,137 members of the FDNY have made the Supreme Sacrifice in the Department's 143-year history.
.