Fire Prevention Week 2007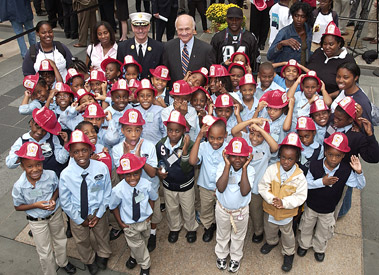 FDNY members joined second-grade students from Brooklyn at Rockefeller Center to celebrate Fire Prevention Week on October 9.
The FDNY descended upon Rockefeller Center in Manhattan on October 9 to honor Fire Prevention Week.
During the event Fire Commissioner Nicholas Scoppetta also joined U.S. Fire Administrator Gregory B. Cade from the Department of Homeland Security to announce that the FDNY Foundation, the non-profit arm of the FDNY, will receive a $900,000 federal grant to create and develop an innovative educational fire safety campaign targeting the millions of people who live and work in New York City.
"This will be a tremendous help to get our message out about fire safety," said Commissioner Scoppetta. "We've had many bad fires in New York City and the worst part is that most of them were preventable."
The ceremony also featured Fire Department members demonstrating a vehicle extraction, hazardous materials emergency simulation and high-angle rescue in an effort to teach New Yorkers how to stay fire safe.
Second graders from a Brooklyn school also were sworn in as junior firefighters and EMTs by Chief of Department Salvatore Cassano, taking a pledge to teach others about fire safety.