Firefighters Make Hudson River Rescue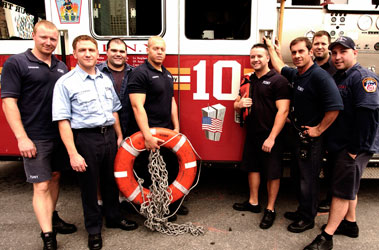 Firefighter David Cirillo of Engine 10 (fourth from the right) and members of Engine 10/Ladder 10 in Manhattan rescued a woman from the Hudson River on October 2.
Firefighter David Cirillo from Engine 10 saved a distressed woman from the Hudson River on October 2.
"We were just doing our job," Firefighter Cirillo said. "I was concentrating on just getting her out of there. I was glad it turned out the way it did."
At 2:54 a.m. firefighters from Engine 10/Ladder 10 were called to Battery Place and West Street in Manhattan to assist a woman who was in the waters about 150 feet off shore.
Firefighter Cirillo, who competed as a varsity swimmer in high school, immediately strapped on a life vest and jumped in the water.
It was very dark outside, so the firefighter said he depended on fellow firefighters standing on the pier with a light and binoculars to guide him to the victim, who was picked up by the fast-moving current and moved more than 300 feet off shore before he reached her.
"They were my eyes, if it wasn't for them I wouldn't have been able to find her," he said. "It's not fun to swim in the dark."
Once he reached the victim, Firefighter Cirillo said he tried to keep her calm until Marine Company 1 arrived and pulled them both from the water.
The victim was transported to New York Downtown Hospital in stable condition.
Lieutenant Michael Kaeser praised the firefighter for his bravery and ability, "Not many people can swim like that - he did a terrific job."