FDNY Expands 9/11-Related Treatment at Four Satellite Sites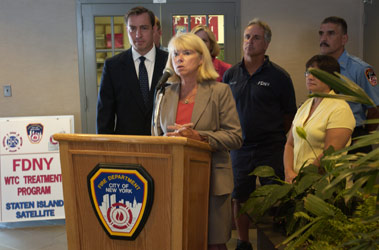 The New York City Fire Department joined Congressman Vito Fossella (R-NY13) on September 4 on Staten Island to announce the FDNY will expand its 9/11-related treatment to four community-based sites across New York.
The sites will make it easier for thousands of active and retired FDNY members to receive appropriate medical and mental health care.
"We want to make sure that all members get the support they need as they continue to heal in the aftermath of 9/11," said FDNY Chief Medical Officer Dr. Kerry Kelly.
Physical and mental health services are now available from a treatment center on Staten Island. In the coming weeks, three more centers will offer these services, including Fort Totten in Queens, Brentwood in Suffolk County, L.I. and Middletown in upstate Orange County.
These sites, which have been used solely as FDNY counseling centers since 9/11, will offer the combined medical services to encourage continued participation in the FDNY's groundbreaking World Trade Center Medical Monitoring Program.
Previously, active and retired members were monitored only at FDNY headquarters in downtown Brooklyn.
"We're making it more convenient to make sure FDNY members get the help they deserve," said Congressman Fossella.
More than 2,000 FDNY members receive treatment for 9/11-related physical health issues each year, and more than 3,000 FDNY members are monitored for mental health issues.
"We recognize how important it is to support our first responders, and this makes it easy for more members to get the help they need," said Dr. Kelly.
Launched in October 2001, the FDNY's World Trade Center Medical Monitoring Program was the first of its kind to evaluate and treat first responders exposed to the World Trade Center site. Led by Dr. Kelly and FDNY Chief Medical Officer of the Office of Medical Affairs, Dr. David Prezant, the program has become a national model in providing treatment to members and identifying the physical and psychological impact of 9/11.
So far, more than 14,300 active and retired FDNY members have received medical monitoring exams through the Department.