Welles Crowther "The Man in the Red Bandanna" Posthumously Named Honorary Firefighter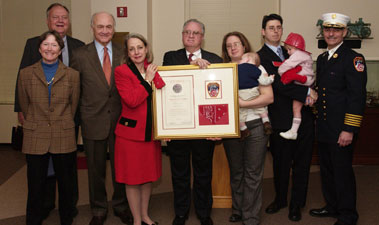 Welles Crowther, who helped save the lives of at least 18 people during World Trade Center attacks, was posthumously named an Honorary Firefighter by Fire Commissioner Nicholas Scoppetta and Chief of Department Salvatore Cassano on December 15 during an event at FDNY Headquarters.
"This is the least we could do," said Commissioner Scoppetta. "He had everything to live for and his parents can take comfort in the fact - if it's possible to take comfort under these circumstances - that he died while helping others."
The 24-year-old volunteer firefighter was working on the 104th floor of the South Tower as an equities trader in September 2001.
After the airplane hit, he raced up and down the steps helping the injured evacuate.
He was known to many of the strangers he saved as "the man in the red bandanna" because of the scarf he wore across his nose and mouth to protect against the intense smoke.
"We are honoring a true hero," Chief Cassano said. "He had the genes of a New York City firefighter."
His parents, Jefferson and Allison, described their son was a "man of action."
In the summer of 2001, Jefferson Crowther said his son discussed his wish to become a New York City firefighter. Yet, he said he questioned Welles' decision, reminding him that it would be huge pay cut.
Following his death, they said they found a partially filled out FDNY firefighter application in his apartment.
"To Welles firefighting was a career, that was a life," Jefferson Crowther said. "I think he didn't apply because he didn't want to disappoint me. But now he is Welles Crowther, FDNY member, and that is definitely not a disappointment to me."