Fire Promotions Ceremony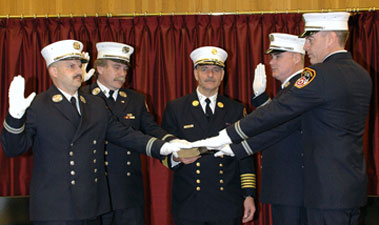 Fire Commissioner Nicholas Scoppetta and Chief of Department Salvatore Cassano presided over a promotions ceremony for 31 Department members on November 9 at the Fire Academy on Randall's Island.
"It gives me great pleasure to be here today and to welcome you to the next stage of your careers," said Fire Commissioner Nicholas Scoppetta. "You have earned the right to be called leaders in this great Department."
During the ceremony, 15 members were elevated to the rank of Lieutenant, six to Captain and five to Battalion Chief. Two members were promoted to the rank of Supervising Fire Marshal, one to Supervising Fire Marshal Level II and one to Assistant Chief Fire Marshal. One member also was promoted to the rank of Provisional Marine Engineer.
"You will now be making decisions that will affect the safety of your members and the public," Chief of Department Salvatore Cassano said. "Thank you moving the Department in the right direction."
Among the promoted members was Assistant Chief Fire Marshal Robert Byrnes, who been a member of the Department for 25 years, 17 with the Bureau of Fire Investigation.
"I have a great responsibility in front of me, but I look forward to helping to shape the future of the bureau and fulfill its mission," he said.