9/11 Memorial Dedicated to FDNY Members at Engine 10/Ladder 10 in Lower Manhattan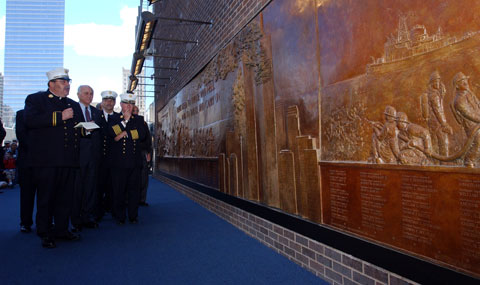 The heroism of all FDNY members was honored on June 10 as the Fire Department unveiled a new memorial depicting their response to the World Trade Center disaster on September 11, 2001.
Donated by the law firm Holland & Knight, the bronze bas-relief sculpture was dedicated at the quarters of Engine 10/Ladder 10 in Lower Manhattan.
"This is a tribute to those who put themselves in harms way so that others might live," said Chief of Department Peter Hayden.
The memorial is 56 feet long by six feet high, and depicts FDNY members responding to the towers along with the phrase "Dedicated to those who fell and those who carry on – May we never forget."
Below the sculpture, the name, rank and company of all FDNY members who died at the World Trade Center are listed, as well as a timeline for the events that occurred that day.
The memorial was funded by the lawyers and staff from Holland & Knight, who noted that it was dedicated in memory of Glenn Winuck, a partner at the firm, volunteer firefighter and EMT. Winuck was killed on September 11 after he left his office to respond to the tragedy.
"It is an honor and a privilege to be able to help dedicate this incredible memorial," said Fire Commissioner Nicholas Scoppetta. "This tribute is particularly important for the families of those lost on 9/11 – to pause and reflect so near to where their loved ones gave all."
Among those attending the event were hundreds of family members and friends of those lost, former New York City Mayor Rudolph Giuliani; US Congressman Peter King (R-NY); US Representative Jerrold Nadler (D-NY 8th); Michael Burke, brother of FDNY Captain William Burke, Jr.; and Brian Starer, Chair of Holland & Knight's 9/11 Memorial Committee.
President George W. Bush, Governor George Pataki and Mayor Michael Bloomberg also sent video presentations.
"We will never forget that day or those that we lost," said Mayor Michael Bloomberg. "And this memorial will serve as an inspiration to members of the FDNY and all New Yorkers, forever."