What's new for August 2007
FDNY WTC Treatment Expands To Satellite Sites
In the aftermath of 9/11, FDNY members, active and retired continue to have WTC related medical and psychological problems. For many, treatments and testing have been burdensome and costly. With NIOSH funding, money for treatment was released in late 2006. BHS will now be opening medical treatment sites in the communities where active and retired members live. These sites will improve access to medical treatments for WTC covered conditions.
What Conditions Are Covered?
Currently the WTC covered conditions include:
Chronic sinus problems
Respiratory problems such as chronic bronchitis, asthma, sarcoidosis
GERD with acid reflux, esophagitis, heartburn
Mental Health such as PTSD, anxiety, depression
To date, members have received WTC related treatment including free medications at a single site at FDNY BHS Headquarters at 9 Metro Tech for both WTC medical treatment and monitoring. In contrast, FDNY WTC mental health services have been available at community based sites. FDNY will soon begin WTC Medical Treatment at these community based sites. The expansion of the FDNY WTC Medical Treatment and Monitoring Program to community based sites will improve accessibility of medical services to our FDNY members, both active and retired firefighters, officers and EMS.
When Are The Sites Opening?
Beginning on August 22, 2007, medical services will be offered at the Staten Island location. WTC physical health treatment will be provided on Wednesdays from 12 – 6 at the Staten Island site. Other sites will offer these expanded medical services over the next several weeks and months on a once a week basis. Of course, mental health treatment will remain in place at these sites, five days a week.
Who Is Eligible For Treatment?
All FDNY active and retired Firefighters, Fire Officers and EMS personnel who worked at the WTC site in rescue and recovery and have had a WTC Medical evaluation since August 12, 2005 are eligible. This is the same eligibility requirement for free WTC-covered medications.
How Do I Make An Appointment?
Appointments for WTC-related medical treatment are made at our central line: 718 999 1858. Our staff will at the same time ensure that your monitoring exam is up-todate. Mental health treatment appointments are made by calling the CSU site directly.
Iím On Full Duty; I Want To Stay On Full Duty. Can I Stay On Full Duty?
The treatment centers in the satellites will only provide WTC related treatments. The WTC Treating physician will not be addressing duty status, unless a life-threatening condition exists. The focused evaluation will be centered around the WTC conditions of the individual, not on duty status. For members who believe that their condition is impacting on their work ability, they should be seen at BHS for duty evaluation.
How Many Have Been Treated So Far?
In the six years since 9/11, many members both active and retired have continued to have symptoms related to WTC exposures. In the last 12 months (7/1/06 to 6/30/07), treatment for WTC physical health issues (mostly upper and lower respiratory) was provided to 2541 members, and treatment for mental health problems was provided to over 2500 members and family members. The continued utilization of services for both mental health and physical health issues, six years after this event, demonstrates the continued impact of the WTC on the well-being of our members, active and retired.
Who Has Been Involved In This Process?
The FDNY WTC program was developed through the efforts of Dr. Kerry Kelly, Dr. David Prezant, Malachy Corrigan (CSU Director) and the BHS Medical Officers who recognized the early patterns of medical and emotional symptoms after the extreme exposures at the WTC site.
The FDNY WTC Medical Monitoring and Treatment program remains a joint labor management initiative, with full support from all our unions, FDNY and the Mayor. We have worked closely with our partners at the National Institutes for Occupational Safety and Health (NIOSH) and the Mt. Sinai medical consortium.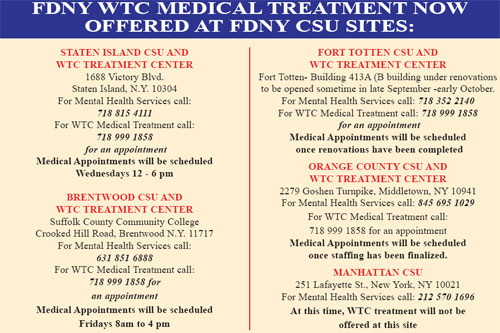 ANNIVERSARY BOOK TO BE RELEASED: WTC Health Impacts on FDNY Rescue Workers
This six year assessment of FDNY rescue workers provides in-depth information about the health effects of 9/11 on our members, active and retired. The book is based on the work done at FDNY Bureau of Health Services during the years September 2001 through 2007. It contains information from the FDNY- BHS WTC Medical Monitoring and Treatment Program of our members, both Fire and EMS. Information from Pensions is also provided to show medical disability patterns over the years pre- and post 9/11. This information helps answer the question: How are we doing?" For each member that question may be answered differently. But the book provides insight into how we are doing as a whole. It will help our members and the public understand some of the health effects on our FDNY rescue workers.
The book has gone to press with publication expected within the next few weeks. Every member of our department will receive a copy of this book. The book will also be distributed to our retired members. It is hoped that it will serve as a useful guide and resource for you. This book has been a joint labor management initiative. It is a reflection of the concerns about the health and well-being of our first responders. On 9/11 and in the days that followed, no other group experienced the degree of exposures to this site, working at the deepest levels in rescue and recovery. The medical monitoring and treatment program that FDNY BHS initiated was an acknowledgement of that exposure. The information you have provided has allowed us to design an effective, state-of-the-art monitoring and treatment program for you. This is just one small part of what the City of New York owes to you, our firefighters and emergency medical personnel. Thank you for your dedication and selflessness.
---
Dr. Kerry Kelly
Chief Medical Officer

Dr. David Prezant
Chief Medical Officer
OMA EMS

Malachy Corrigan
Director
FDNY CSU

Mary T. McLaughlin
Director
FDNY BHS