What's new for April 2007
World Trade Center Medical Monitoring and Treatment Program Q&A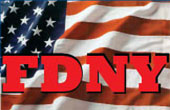 Health Connections was instituted to help communicate with FDNY members about health issues and BHS policies that impact on our members.
With the institution of new programs and the implementation of policies to improve the health of our members, questions sometimes arise that can be answered in this forum so that all members can be made aware of BHS practices.
What is the difference between a WTC Medical and the Annual medical examination?
The two exams are essentially the same. All active members, Fire and EMS are scheduled for periodic medical examinations. Now retired members who participated in WTC activities whether as active or as retirees are returning for WTC medical examinations. The data collected has helped us compare changes in breathing tests for all members from before 9/11 and after 9/11. The comparison testing show a drop of 375 ml average drop in function for all members, but with an even greater drop (75ml additional) for those who were at the site during the collapse. We continue to compare over time the changes in function to see what the trend will be.
Who gets my test results?
The results of the tests are sent to the individual members. We encourage you to share these results with your primary health care provider so that you can use this information to develop a plan for healthier living. The testing done will include blood count, sugar level, cholesterol screening and liver studies. Drug testing is not part of the annual or WTC medical examination. Candidates get drug screening done, fifth grade medical evaluations include drug screening and if ordered for cause.
The shared information about trends and patterns of health and well-being are gathered by looking at the collective data, not at individual names. This aggregate data allows us to see trends and observe widespread changes. This information has helped others understand the need to pay attention to the health of FDNY members who spent more time at the WTC than any other group and who face risks every day they go to work.
I take BP medicine, should I skip my medical or not take my medicines that day? I heard that if they find out you're taking medicine they won't let you go back to full duty. Is this true?
Hypertension is a treatable health problem. Control of blood pressures is important to reduce the risk of heart attacks and strokes. Good BP control can be achieved with weight maintenance, dietary management and with medications. BHS has allowed members to work full duty if the blood pressure is well controlled on medications that do not interfere with balance, energy or heart rate. The acceptable medications include ACE inhibitors (enalapril, monopril, benacar, lisinopril, altace, etc), hydrochlorothiazide diuretics, ARB's (diovan, avapro, and cozaar), Norvasc and some combination of these medications. Members found to have hypertension are told to see their doctor, and return with a certification of fitness for duty including readings about blood pressure, no evidence of other organ damage, and with a note regarding treatment for this problem. Our goal is not to keep people from work but keep people healthy at work.
Recently guys I work with got a letter about a free CAT SCAN program for WTC participants. Why didn't I get a letter? I worked at the site and I don't smoke, why am I being excluded?
This CT scan program is a new treatment initiative from the FDNY WTC Monitoring and Treatment program that focuses on the most high risk groups. The results of the breathing test showed the greatest decline in those members working at the site at the time of the collapse. Also smoking cigarettes is a known health hazard so that members who indicated they smoked are also included in this evaluation. Since 9/11, over 1000 members have taken CT scans of the lungs to evaluate their lungs because of symptoms. In this screening program, testing is being offered due to the risks of either smoking or early arrival at the WTC site. BHS will continue to order CT Scans to members, active and retired, who have symptoms and who are seen in our monitoring and treatment program with lung symptoms.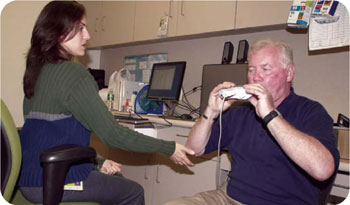 What types of medications are covered in this WTC Treatment program?
The WTC covered conditions are Aerodigestive problems (chronic sinuses, cough, reactive airways disease, gastric reflux). Mental health problems (traumatic grief, post-traumatic stress disorder, depression) and musculoskeletal 9/11 injuries. If you suffered severe orthopedic injuries during the collapse we also have selected medications for those conditions. This free medication program covers both active and retired (Fire and EMS). Retiree coverage depends on continued support from the federal government for our WTC health program. You are only eligible for coverage if you have an up-to-date WTC Medical Monitoring evaluation. Medications can be suggested by your own doctor or by our WTC Treatment doctors but to have them covered for free in our program, all prescriptions must be written by one of our physicians.
What if I am taking medications and then get screened with the random drug program? Will my career be in jeopardy?
No, the random drug screening program is testing for illegal drugs such as cocaine and THC (POT) and for controlled substances. If a member screens positive for a controlled substance and has a legitimate prescription in their own name for this medicine, then this is accepted. Most of the medication given through this WTC Treatment program will not show up in the screening. For example, medications for anxiety and depression such as Paxil, Prozac and Zoloft can be taken by active full duty members and the testing will not show up as positive. Medications that can affect sensorium like Valium, Xanax and certain sleeping medications may show up as a positive screen and should not be taken at work due to the side effects, such as fatigue and sleepiness. But if a legitimate prescription for the member is in place, the random screen will be reviewed as negative by the Medical Review Officer.
I am a retiree and concerned that if I participate in the WTC Medical Monitoring and Treatment Program, it may jeopardize my disability pension and social security benefits. Is this true?
No, participation in the WTC Medical Monitoring & Treatment Program in no way jeopardizes your disability pension, regardless of your disability. Nor does it have any effect on your Social Security benefits.
In fact, if your results from the program document that you have severe health effects from the unique exposure of WTC, you may be eligible for a pension under the newly enacted WTC Presumptive Bill. The documentation gathered on your behalf can assist you in filing for such a pension.
I heard about the WTC Presumptive Bill; how do I find out about it? do I qualify for this bill since I worked down at the site? Is there a process to file or am I included with all other members who worked at WTC?
Any active member, vested member, Service or Ordinary Disability pensioner (who vested or retired on or after 9-11-01) who participated in the WTC Rescue, Recovery or Clean-Up Operations between September 11, 2001 and September 12, 2002 should file a Notice of Participation if they meet all of the following pre-qualifying criteria:
Successfully passed a physical examination for entry into public service (which all firefighters have done)
Worked at one of the following places between September 11, 2001 and September 12, 2002:
World Trade Center Site (the World Trade Center Site is defined as anywhere below a line starting from the Hudson River and Canal Street; east on Canal Street to Pike Street; south on Pike Street to the East River; and extending to the lower tip of Manhattan)
Fresh Kills Landfill
NYC Morgue or the temporary morgue on pier locations on the West Side of Manhattan
Barges between the West Side of Manhattan and the Fresh Kills Landfill
Set forth below is a list of Qualifying Conditions or Impairment of Health:
Diseases of the upper respiratory tract and mucosae, including conjunctivitis, rhinitis, sinusitis, pharyngitis, laryngitis, vocal chord disease, upper airway hyper-reactivity and tracheo-bronchitis, or a combination of such conditions; or
Diseases of the lower respiratory tract, including but not limited to bronchitis, asthma, reactive airway dysfunction syndrome, and different types of pneumonitis, such as hypersensitivity, granulomatous, or eosinophilic; or
Diseases of the gastroesophageal tract, including esophagitis and reflux disease, either acute or chronic, caused by exposure or aggravated by exposure; or
Diseases of the psychological axis, including post-traumatic stress disorder, anxiety, depression, or any combination of such conditions; or
Diseases of the skin such as contact dermatitis or burns, either acute or chronic in nature, infectious, irritant, allergic, idiopathic or non-specific reactive in nature, caused by exposure or aggravated by exposure, or
New onset diseases resulting from exposure as such diseases may occur in the future including cancer, chronic obstructive pulmonary disease, asbestos-related disease, heavy metal poisoning, musculoskeletal disease and chronic psychological disease.
You can find the Notice of Participation form on the FDNY intranet and fdnyinsider websites. Please make sure you file as the deadline is June 14, 2007.
I received a letter inviting me to obtain a chest ct scan based on my World Trade Center exposure. Some of my other FDNY friends and co-workers have not received one; is this open to all FDNY members?
Will this effect my duty status?
The CT scan is free. If abnormalities are found and future CT scans or other non-invasive tests are needed for pulmonary or related diagnoses, these tests will be covered for free under the WTC NIOSH program for as long as that program continues to be funded. Current funding is adequate to meet the needs of this mailing list (n=2500). The ct scan is only done at NYU due to quality control issues and the need to maintain integrity of the data for confidentiality and comparison purposes. However, those retirees who have moved to distant locations will be dealt with on an individual basis. All individual test results are confidential. Group data without names will be aggregated so we can communicate with membership, unions and others what our overall findings have been, thereby improving our knowledge of WTC related conditions.
Our policy is that no duty change occurs unless a life-threatening illness is found. In the over 1300 members that have already participated in the WTC ct scan program (Phase 1) none have had a duty change occur on the basis of the CT scan. All members on full duty who are sent this letter are not required to participate. It is voluntary. It must be done on a members own time. No requests for paid time will be honored.
The most common abnormality found in about 30% of our members have been 1 or several micronodules (less than 8mmm in size). These are too small to biopsy and require serial CT followup to make certain they do not increase in size or density. Typically this is 2 to 3 additional CT scans over a 2 yr period and again are free under this program. These are followed on full duty. CT scans are repeated on full duty and results are communicated by letter or phone. Visits to BHS are not required for this but can occur if in person counseling is requested.

If there is an increase in size or density members would then need a PET scan (covered by our program) and a biopsy or resection (possibly covered by our program depending on circumstances and funding). Only at the time of biopsy is duty status changed to medical leave. To date, a handful of patients (most already retired) have required biopsy or resection but none due to nodule growth. If member is active and nodule is biopsied or resected they would then return to full duty unless cancer is found. In fact, none of our patients have had nodule growth but we continue to take this seriously and do the above follow up protocol.
CT scans can also show sarcoidosis, pulmonary fibrosis and/or emphysema. All of these conditions are WTC related and future care would be paid for with NIOSH funding (as long as it is available). Duty status change would only be required if the condition is moderate to severe in nature. Again, we only have a handful of members with these conditions. All such members with moderate to severe disease are considerably symptomatic and typically have already started the process for duty status change.
Some members not on our list for a free CT scan have called and requested one. This is phase 2 of ct screening. Phase 1 has already been completed and included 1300 symptomatic individuals with high exposure. Phase 2 (this current mailing of about 2500 members active and retired) includes those not already CT scanned who have the highest risk based on exposure (arrival time) and/or smoking history. If you are not on the list, you can discuss this at your next medical monitoring exam or you can wait for Phase 3 which may or may not occur depending on the findings of Phase 2 and funding. If symptomatic you should either obtain an FDNY WTC medical monitoring exam, or request a WTC FDNY treatment evaluation. If asymptomatic, you should not schedule an appt with Dr. Prezant to merely plead your case for a free CT scan.
Chest Ct scan is the only screening CT that is currently recommended for high risk patients. Body scans are not recommended by the medical organization. Body scans without contrast provide little additional information.
No other WTC monitoring or treatment program offers this opportunity. We are extremely proud to be able to offer this to our membership and to continue our leadership in this joint labor management initiative.
---
Dr. Kerry Kelly
Chief Medical Officer

Dr. David Prezant
Chief Medical Officer
OMA EMS

Malachy Corrigan
Director
FDNY CSU

Mary T. McLaughlin
Director
FDNY BHS